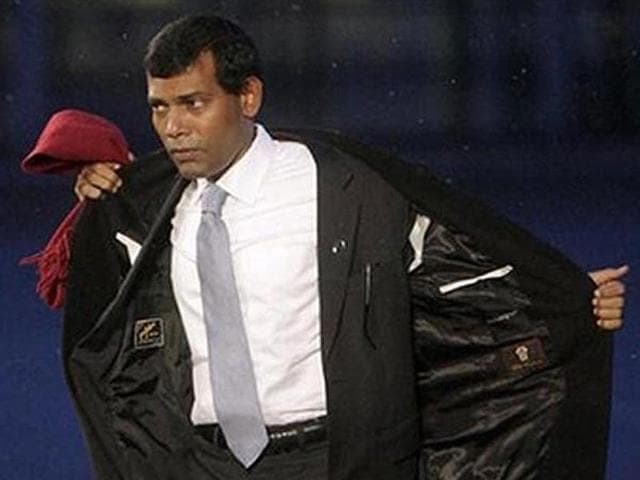 Maldives ex-president says 'will be in jail tomorrow'
The former president of the Indian Ocean archipelago of the Maldives sat inside his house awaiting arrest today after being ousted from his post in what he said was a coup at gunpoint. Arrest warrant issued for Nasheed | Police accuses Nasheed party of 'terrorism' | Watch video
| Tense calm
UPDATED ON FEB 09, 2012 04:47 PM IST
The former president of the Indian Ocean archipelago of the Maldives sat inside his house awaiting arrest on Thursday after being ousted from his post in what he said was a coup at gunpoint.


About 200 supporters stood under umbrellas in the pouring rain outside as Mohamed Nasheed spoke to reporters at his home in Male, capital of the islands renowned for their luxury getaway resorts.
"The home minister has pledged (I will be) the first former president to spend all my life in jail," said Nasheed, who was relaxed and smiling and showed no signs of his reported beating on Wednesday.
"I hope the international community will take note of what is happening in the Maldives."
He said he hoped the international community would act quickly as "the facts on the ground are that tomorrow I will be in jail."
Only about 400,000 people live permanently in the Maldives but there has been much interest in the tumult there this week because of the huge numbers who visit the islands on holiday.
The Maldives receives about one million visitors each year, many of who are seeking a sun-and-sand getaway at resorts that charge up to $1,000 per night.
A criminal court has issued arrest warrants for Nasheed and his former defence minister, but the charges against them were unclear, a senior official of Nasheed's Maldivian Democratic Party (MDP) said.
"An arrest warrant has been issued for him and his former defence minister," MDP official Adam Manik told Reuters.
"We have no idea (what the charges are)."
Police said on state TV on Wednesday night that protests led by Nasheed after his ouster were "an act of terrorism".
"Police beat up the people very, very brutally," Nasheed said, adding that it had prompted a "very strong hatred of the police".
One police station had been burnt down in the violence, he said.
"I do not appreciate that. I do not ask the people to be violent."
MDP officials said police and soldiers were on their way to arrest Nasheed, who had just met with a Commonwealth delegation to mediate in the political crisis that followed his resignation on Tuesday.
Nasheed was reported injured on Wednesday when police broke up protests against his ouster. He said earlier he was forced to quit at gunpoint.
"There were guns all around me and they told me they wouldn't hesitate to use them if I didn't resign," he told a news conference on Wednesday.
The unrest has taken place far from areas frequented by tourists, who usually land at an airport on an adjoining island and go directly to the various resorts in the archipelago, bypassing Male.
Vice President Mohamed Waheed Hassan Manik was installed as President and has said he will form a government of national unity.
Protests against Nasheed's government started after he ordered the military to arrest the criminal court chief justice, saying he was blocking multi-million dollar corruption and human rights cases against the allies of Maumoon Abdul Gayoom, president for 30 years until he was replaced by Nasheed.
The Progressive Party of the Maldives, led by Gayoom, said in a statement it was appalled by Nasheed's "desperate attempts at insurgency to return to power barely 24 hours after his resignation".
"Nasheed must know that militancy and chaos do little to repair his tarnished image," it said.
Western diplomats said they wanted all political parties, including Nasheed's, to back down and join the unity government.
"We want to take the politics off the streets and cool the rhetoric down," a European diplomat based in Colombo told Reuters.
The United Nations and Western governments have given the transfer of power at least an apparent seal of approval, based on their public statements.
However, John Rankin, British high commissioner to Sri Lanka and the Maldives, said he was concerned for Nasheed.
"We are aware of reports of an arrest warrant issued for President Nasheed," Rankin said.
"We are concerned that no harm comes to him. If it did, it would be a matter of serious concern for us and the international community."
Close