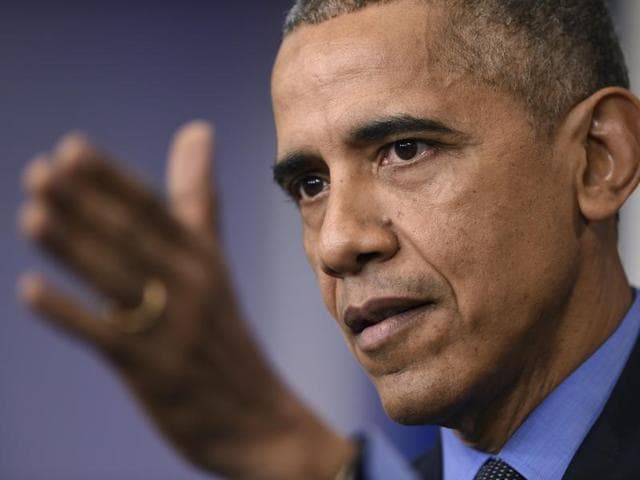 Obama targets Trump, says he's exploiting fears of working class
The president also said some of the criticism he gets is because he is African American and some people haven't yet reconciled with the idea of him in the White House
UPDATED ON DEC 22, 2015 09:18 AM IST
President Barack Obama has accused Republican Donald Trump, who is running to succeed him, of "exploiting" fear and anger among working class voters to boost his campaign.
The president also said some of the criticism he gets is because he is African American and some people haven't yet reconciled with the idea of him in the White House.
In an interview to NPR, the president said working-class people have been unsettled by recent economic problems, changing demographics and the mechanics of the new economy.
"You combine those things, and it means that there is going to be potential anger, frustration, fear — some of it justified, but just misdirected," the president said.
"I think somebody like Mr. Trump is taking advantage of that. That's what he's exploiting during the course of his campaign."
Trump's rise among Republican voters — he has led the field in national polls for months now — has been widely attributed to him tapping into that anger pointed out by Obama.
Trump has called Mexican immigrants rapists and criminal and has called for banning non-American muslims from entering the country, using rhetoric that could have ended another campaign.
Trump has not only survived, but flourished.
In response to a question about criticism of his presidency, Obama said some of that is legitimate and expected but there is some of it that has to do with his "background".
"If you are referring to specific strains in the Republican Party that suggest that somehow I'm different, I'm Muslim, I'm disloyal to the country, etc. — which unfortunately is pretty far out there, and gets some traction in certain pockets of the Republican Party, and that have been articulated by some of their elected officials — what I'd say there is that that's probably pretty specific to me, and who I am and my background.… In some ways, I may represent change that worries them."
That's not to suggest, he added, "that everybody who objects to my policies may not have perfectly good reasons for it".
Close