Imran Khan to divorce Reham after 10 months of marriage
Updated on Oct 30, 2015 06:07 PM IST
Imran Khan and his wife Reham have divorced with mutual consent after 10 months of marriage.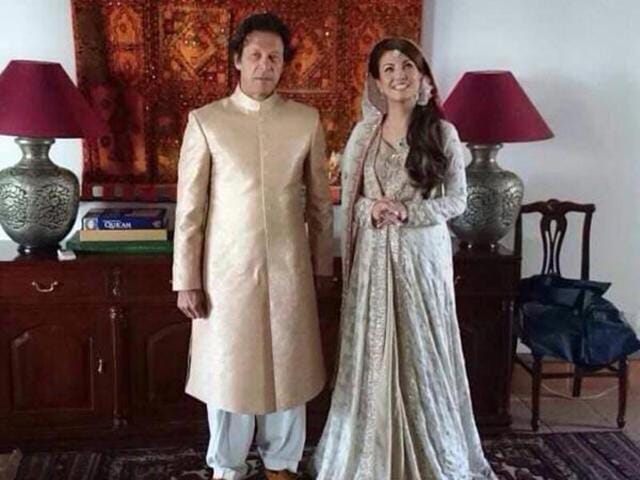 Cricketer-turned-politician Imran Khan and his wife Reham have decided to divorce just 10 months after they wed, the couple said on Friday, ending a whirlwind romance that made headlines round the world.
Khan, 63, who captained the Pakistan team that won the cricket World Cup in 1992, married 42-year-old Reham, a former BBC journalist, in January in a low-key ceremony at his home in Islamabad.
The couple announced the break-up in separate tweets.
"We have decided to part ways and file for divorce," Reham, who has three children from a previous marriage, said on Twitter.
Khan tweeted that he had the "greatest respect for Reham's moral character". He added: "This is a painful time for me & Reham & our families. I would request everyone to respect our privacy."
Khan is the father of two sons from his previous marriage to British socialite Jemima Goldsmith. Khan divorced Goldsmith in 2004 after a nine-year marriage.
Naeemul Haque, a spokesman for Khan, said in a post on Facebook that the couple had "decided to divorce by mutual consent". He said, "Due to the sensitivity and seriousness of this extremely painful matter it is requested that the media should refrain from any speculation. There will be no further communication in this respect."
A source close to Khan was quoted by Pakistan's Dawn.com as saying that he and Reham were "just not getting along".
"She wanted to get involved with politics and that is not what Khan wanted at all. She just did not want to sit at home," the source said. "There were teething problems as well over other issues which were being resolved but this was a major issue – she wanted to get into politics and was not ready to back down."
It is believed that Khan's family, particularly his sisters, were against the marriage from the beginning. They had not attended his wedding to protest, family members said.
Khan surprised many when he suddenly announced his plans to marry shortly after launching a movement to topple Prime Minister Nawaz Sharif's government in August 2014. Khan wed about a month after he called off the movement in December.
Reham, who also hosted a Pakistani TV talk show, was widely criticised after she appeared at public meetings of Khan's Pakistan Tehreek-e-Insaf party, with opponents accusing her of seeking to boost her own profile.
She also sparked controversy when it emerged she had not attended a college where she claimed to be a student on her website.
Speculation about the marriage being on the rocks had swirled in the Pakistani media for months, drawing angry denials from Khan on social media. "I am shocked at a TV channel making a slanderous statement about my marriage. I strongly urge the media to desist from such baseless statements," Khan had said on Twitter.
He tweeted after a media report said Reham was staying at his residence in the posh Bani Gala area of Islamabad though she was "not welcome there any longer".
After leaders of Khan's party expressed concern over Reham's participation in party politics, he announced she would not contest polls or attend any party gatherings.
As the break-up became public, Prime Minister Nawaz Sharif asked all leaders of his Pakistan Muslim League-Nawaz party to refrain from commenting on Khan's personal matters.
But other politicians did not keep their peace. Commenting on the divorce, Pakistan People's Party leader Nisar Khuhro said: "If I was a Punjab leader, I would have immediately invited Reham Khan to join our party. Regardless of whether a woman is from the East or West, she cannot survive with a person like Imran Khan."
Punjab province's law minister Rana Sanaullah, a leader of the PML-N, echoed Khuhro's statement and said, "No woman can stay with Imran Khan."