Singapore Airlines flight fails mid-air, descends by 13,000 ft before restoring power
Singapore Airlines reported that the power failure was due to bad weather, and is investigating the matter along with Airbus and the engine manufacturer- Rolls-Royce.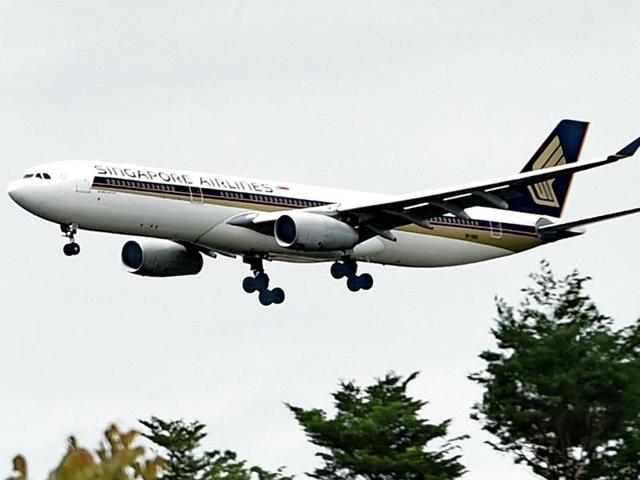 Updated on May 27, 2015 04:26 PM IST
A recent Singapore Airlines (SIA) Airbus carrying 194 people to Shanghai temporarily lost power to both engines and descended by 13,000 ft (3.96 km) before normal operation was restored. SIA said it is investigating the May 23 incident together with Airbus and engine manufacturer Rolls-Royce, which was reportedly caused by bad weather.
On May 23, SIA Airbus A330-300, carrying 182 passengers and 12 crew members encountered bad weather at 39,000 ft about three and a half hours after departure from Singapore. "Both engines experienced a temporary loss of power and the pilots followed operational procedures to restore normal operation of the engines. The flight continued to Shanghai and touched down uneventfully at 10.56 pm local time (1456 GMT)," said SIA. It added that the engines "were thoroughly inspected and tested upon arrival in Shanghai with no anomalies detected".
In a Twitter post late Tuesday, industry portal @Flightradar24 said:
In a subsequent post, it said the failure was while flying through a "huge storm", pinpointing an area in the South China Sea off China's southern coast where the incident occurred:
Calling it as a very unusual occurrence, Greg Waldron, Asia managing editor at aviation information firm- Flightglobal, tweeted:

"Generally these engines are extremely reliable and they work continuously for 13-14 hours a day for months and years," he said. He added that as passengers did not seem to have posted about the incident on social media after the weekend, it indicated that they may have been unaware of the engine problem. "This is speculation, but from the inside of the aircraft it could have been that the power loss was not obvious," Waldron said.
Last week, Airbus warned of a technical bug potentially affecting the engines of its A400M military planes, that was discovered after a crash during an internal test in Spain.
SIA, Asia's third largest carrier by market value, currently has 29 Airbus A330-300s in its passenger fleet, along with a fleet of 19 Airbus A380-800 superjumbos. The airline, along with its subsidiaries SilkAir, Scoot, and Tiger Airways, flies to 119 destinations across 35 countries.
Close Story
Personalise your news feed. Follow trending topics