Yemen: 43 killed, 100 wounded in rebel attack on Aden
Jul 19, 2015 11:23 PM IST
At least 43 civilians were killed and 100 wounded as Shiite rebels bombarded Yemen's second city Aden on Sunday, a health official said.
At least 43 civilians were killed and 100 wounded as Shiite rebels bombarded Yemen's second city Aden on Sunday, a health official said.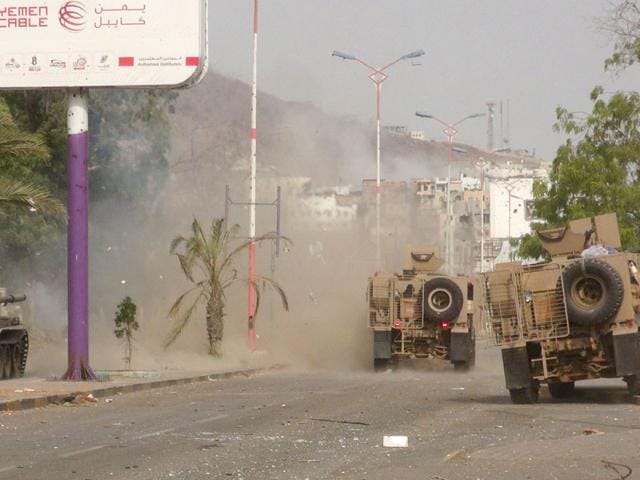 Pro-government forces sought to tighten their control of Aden as the Iran-backed rebels resisted in some districts two days after the regime declared the city "liberated".
Backed by air support from Saudi-led warplanes and troops freshly trained in the kingdom, forces loyal to exiled President Abedrabbo Mansour Hadi have managed to wrest back control of most of Aden.
Two ministers from the exiled government returned to the southern city this weekend, shortly after Prime Minister Khaled Bahah heralded its "liberation" four months after the Huthi rebels entered it.
On Sunday, fighters from the pro-Hadi Popular Resistance advanced towards the rebel-held district of Al-Tawahi, a military source said.
Aden's presidential residence is in the district, where Hadi took refuge after escaping house arrest under the rebels in Sanaa in February, before then being forced to flee for Saudi Arabia.
Swathes of Aden have been reduced to rubble by ferocious fighting.
Warplanes from a Saudi-led Arab coalition have pressed an air campaign launched in March in support of Hadi and against the Huthis and renegade troops loyal to former president Ali Abdullah Saleh.
Since late Saturday, around 15 air strikes targeted rebel positions in Al-Tawahi and on the northern outskirts of the city where the rebels had brought in reinforcements, military sources and witnesses said.
There was also fighting in the Crater district where some rebels remain holed up, according to pro-Hadi fighters.
Nine rebels were killed in a raid on Khormaksar neighbourhood, witnesses said.
'Operation Golden Arrow'
The interior and transportation ministers headed a delegation from the exiled government that landed in Aden on Friday night. They took part in a meeting on Saturday aimed at securing the city.
The government-run news agency said the meeting looked into reopening the airport and the port to allow the flow of much-needed aid, as well as the restoration of electricity and water services.
Loyalist forces took the airport shortly after a Tuesday assault dubbed "Operation Golden Arrow" began. Some displaced residents have returned to assess the damage to their houses and neighbourhoods.
"There is no life! No hospitals, no electricity, nor water. If it was not for the two wells of the neighbourhood, people would have died of thirst," said Crater resident Moatez al-Mayssuri.
A rebel spokesman dismissed the government's claims on Saturday that it now controlled Aden as "psychological warfare and an attempt to improve the crushed morale" of loyalist fighters.
On Sunday, the spokesman for the Huthis' Ansarullah movement Mohammed Abdulsalam said the rebels had "regained the lead and repelled several attacks by the mercenaries".
The rebels, meanwhile, also targeted Saudi positions across the northern border in Najran and Jizan, according to the rebel-controlled Saba news agency which cited a military source.
Elsewhere, firefighters managed to extinguish a huge blaze at a gas depot southwest of Taez in central Yemen after it was shelled by rebels, according to the government-run news agency.
The United Nations has declared Yemen a level-3 humanitarian emergency, the highest on its scale.After weeks of shuttle diplomacy between the two sides, it announced a humanitarian truce last weekend to allow the delivery of desperately needed relief supplies, but the ceasefire failed to take hold.
More than 21.1 million peoplE over 80 % of Yemen's population need aid, with 13 million facing food shortages. More than 3,200 people have been killed in the fighting many of them civilians, the UN says.
"Exciting news! Hindustan Times is now on WhatsApp Channels
Subscribe today by clicking the link and stay updated with the latest news!"
Click here!
Get Latest
World News
along with
Latest News
from
India
at Hindustan Times.