A near-peer competitor: How US intelligence views China
Mar 15, 2022 01:57 PM IST
A report prepared by the Office of the Director of National Intelligence, titled the Annual Threat Assessment of the US Intelligence Community, was made public on March 8. HT's deep dive into the fine print of the report:
Washington: China, Russia, Iran, and North Korea are the top four national security threats to the United States (US). Health security, the climate crisis, innovative use of technology, organised crime, migration and terrorism are the top transnational issues that pose a national security threat. And regional conflicts – including in South Asia – need to be carefully observed for their inflammatory potential.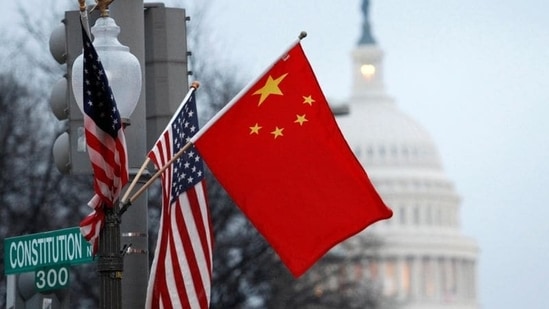 These are the big conclusions of a report prepared by the Office of the Director of National Intelligence, titled the Annual Threat Assessment of the US Intelligence Community, made public on March 8. The report was finalised in February, shortly before Russia invaded Ukraine, but at a time when the US intelligence community was warning the world about Russia's plans.
HT breaks down the key features of how the US sees the China challenge, described by the world's most powerful intelligence community, as a "near-peer competitor", and the significance of these conclusions. The fact that the US deep State recognises China as posing a military, technological and economic challenge is a reminder that despite the current fluctuations in the global system, there is an underlying structural logic of competition between the two countries.
China's objectives
The US believes that China will continue to make efforts to become the "pre-eminent power in East Asia and a major power on the world stage", and in this quest, it will continue to "press Taiwan on unification, undercut US influence, drive wedges between Washington and its partners, and foster some norms that favor its authoritarian system". At the same time, US intelligence believes that China will seek opportunities to reduce tensions with the US when it suits their interests – a conclusion that assumes salience at a time when there are constituencies both in Washington and Beijing which are seeking to reset West-China ties in the wake of Russia's invasion.
On Beijing's specific geopolitical objectives, the US believes that tensions over Taiwan will grow, as China increases its military activities around the island and Taiwan resists pressure for unification. In a testimony to a House Permanent Select Committee on Intelligence, Avril Haines, director of national intelligence, said last week that China will seek a coerced unification, without an armed conflict, but is prepared to use military force if necessary. The US also foresees a disruption in global supply chains, especially vis-a-vis semiconductors, of which Taiwan is the leading producer, as these tensions grow. This conclusion will sharpen a debate within the US on what should be the contours of its commitment to Taiwan, which at the moment, does not entail direct military involvement in Taiwan's defence.
On the South China Sea, the report claims that Beijing will continue to use a growing number of "air, naval and maritime law enforcement platforms to intimidate rival claimants" to signal that China has "effective control" over contested areas. The assessment is important because it predicts a continuity in China's behaviour in the region, perhaps even an increase in intensity, despite the fact that Beijing has alienated a set of neighbours due to its belligerence and a counter-hegemonic coalition of like-minded countries in the form of Quad has emerged with the stated objective of ensuring a free and open Indo-Pacific. The fact that China has, over the past decade, already succeeded in changing the status quo appears to have emboldened it – and its revisionist approach will pose a continued challenge.
The report says that Beijing will also continue to use the Belt and Road Initiative to expand its "economic, military and political" influence abroad, but it will adjust its approach in response to "publicity and sustainability challenges" and diversify project selection to improve the brand's reputation. The conclusion is significant because China has increasingly faced criticism for its predatory economic practices that have forced countries into a subservient relationship, with high debt burdens. How this backlash may force Beijing to adapt its strategy, even if its overall objective remains dominance, will be keenly watched across countries of Asia and Africa in particular. It also indicates that there is a pragmatic streak in policymaking in Beijing, that is receptive to changing tactics in response to emerging concerns.
The US sees China as its top technological competitor as Beijing "targets key sectors and proprietary commercial and military technology from the US", uses "a variety of tools, from public investment to espionage", and pushes for "new international norms for technology and human rights, emphasizing state sovereignty and political stability over individual rights". This is an acknowledgement of the fact that a key new axis of global conflict is around both the nature of emerging technologies and the norms that govern them. It is not a surprise that Quad has focused on emerging technologies as a key area of collaboration or that diplomats around the world are brushing up their scientific knowledge base.
The report, prepared after the Xi Jinping-Vladimir Putin statement this year but before Russia's invasion, also suggests that China will continue to deepen its "technology, defense, and diplomatic cooperation with Russia" to challenge the US. As seen after the invasion, the Russian dependence on China has indeed increased, and Beijing continues to stand aloof from the western world by refraining from any condemnation of Russia's actions. But the Russian move, as many in the US see it, may also have provided a window to slow down the extent of Moscow-Beijing cooperation. Indeed, this remains a big unanswered question at the moment. If China decides to throw in its lot with Russia entirely, it will mark a moment of rupture with the West; if it decides to alienate Russia and possibly reset its ties with the West, it will mark a shift in the West's geopolitical priorities, at least for the next few years as Europe remains the centre of geopolitical attention; if Beijing emerges as a peacemaker, using its leverage with Russia, its global standing will shoot up; and if it straddles all these conflicting impulses and walks a fine line between Moscow and Moscow's critics, as is likely, its geopolitical and strategic value will continue to rise for all sides.
China's conventional and nuclear capabilities
The US believes that China will continue to pursue its objective of building a "world-class military" to secure what it sees as its "sovereign territory, establish its pre-eminence in regional affairs, and project power globally while offsetting perceived U.S. military superiority". There is an even starker official conclusion that the US intelligence community has drawn – that Beijing is developing the People's Liberation Army (PLA) capabilities in a manner that it will need to confront the US in a "large-scale, sustained conflict".
The report says that the PLA Navy and Air Force are the "largest in the region", the PLA Rocket Forces conventional systems can hold US "forces and bases in the region" at risk; and its first operational hypersonic weapons system could challenge US missile defence systems. The US also expects PLA to continue to pursue the establishment of "overseas military installations" and access agreements.
In the nuclear realm, the US has concluded that Beijing is set to continue the "largest ever nuclear force expansion and arsenal diversification in its history" and will not agree to any deal that locks in Washington and Moscow's advantages in this regard and limits Beijing's own expansion plans. "China is building a larger and increasingly capable nuclear missile and bomber force that is more survivable, more diverse, and on higher alert than in the past, including nuclear missile systems designed to manage nuclear escalation and ensure and intercontinental strike capability in any scenario". Military planners from Washington to Delhi, from Tokyo to Canberra are certain to be taking notes on what this means for their capabilities.
But it is not just in the realm of conventional and nuclear forces that Beijing is investing its capital and increasing its capabilities.
The world of space and cyber
In terms of space, the US believes that China is working to "match or exceed US capabilities", the PLA will continue to "integrate space services – such as satellite reconnaissance and positioning, navigation and timing – and satellite communications into its weapons command and control systems", and China already has "counterspace-weapons capabilities to attack intended to target US and allied satellites".
The conclusion in the realm of cyber warfare is even more stark. According to the report, "China presents the broadest, most active and persistent cyber espionage threat to the U.S government and private sector networks". It says that China "almost certainly" was capable of launching cyber-attacks against the US that would disrupt its critical infrastructure services, including oil and gas pipelines and rail services. US intelligence – no strangers to surveillance themselves – also claims that China "leads the world in applying surveillance and censorship to monitor its population…conducts cyber intrusions that affect U.S and non U.S citizens beyond its borders".
And in terms of what the US calls China's "malign influence", American intelligence agencies predict that Beijing will continue to expand its global intelligence and covert influence posture, exploit doubts about US democracy, undermine democracy, and extend Beijing's influence in east Asia and western Pacific. It will downplay its early failures on Covid-19 and blame the West with misinformation; it is intensifying efforts to mould "US public discourse", and is "probably reviewing publicly disclosed Russian influence operations and gaining experience from operations that use social media and other technologies against societies in Asia and elsewhere".
China in South Asia
In a subsequent section in the report, the US intelligence community highlights the developments on the India-China border and predicts that relations between Delhi and Beijing will remain "strained" in the wake of the lethal clash of 2020 – a reference to Galwan – which it accurately terms the most serious in decades.
"We assess that the expanded military postures by both India and China along the disputed border elevates the risk of armed confrontation between the two nuclear powers that might invite direct threats to U.S persons and U.S interests and calls for U.S intervention". It also suggests that previous standoffs have demonstrated that "persistent low-level friction" at the Line of Actual Control "has the potential to escalate swiftly".
On South Asia, the intelligence community also flags the "risk – however low – of an escalatory cycle" between India and Pakistan. It acknowledges that Pakistan has a long history of supporting "anti-India militant groups"; under Narendra Modi, India is more likely to respond with force to perceived or real Pakistani provocations; and each side's perception of heightened tensions raises the risk of conflict. In particular, it suggests that "violent unrest in Kashmir or a militant attack in India" are particular flashpoints.
Reading the report right
It is a sign of transparency in American democracy that intelligence agencies put out such annual reports; agency heads are expected to testify in front of legislative intelligence committees – both in public when it comes to unclassified information, and in private when it comes to classified information; and that threats, including to US interests, and capabilities of adversaries are laid out in public to whatever extent American national security planners deem right.
This is a signal to the home constituency about the work that the agencies are doing, to the political class about threats it needs to prepare for, and to the rest of the world – adversaries and allies alike – the fact that the US has its eyes and ears open. And in that sense, a public report is an illustration of what Washington, at a particular moment, identifies as its top threats.
At the same time, any intelligence report must be read with caution, even a degree of scepticism. It is driven by the need to play up some threats and underplay other threats; it often hides more than it can reveal; its conclusions are priorities are a function of inter-agency debates and turf battles; it has an eye on resource allocation for perceived threats; and most significantly in the current context, events often outpace intelligence assessments.
But while keeping the caveats in mind, the Annual Threat Assessment of the US Intelligence Community for 2022, published in March, finalised in February, and based on information till the end of January, gives a glimpse into the worldview of the deep State in Washington. And in that worldview, Beijing remains a top adversary.
Enjoy unlimited digital access with HT Premium
Subscribe Now to continue reading