Dear Modi Sarkar, respect intellectuals and please respond
Right after documentary filmmaker Anand Patwardhan returned his National Award, he appeared for a television interview and said the current regime has ushered us into "early stages of nascent fascism".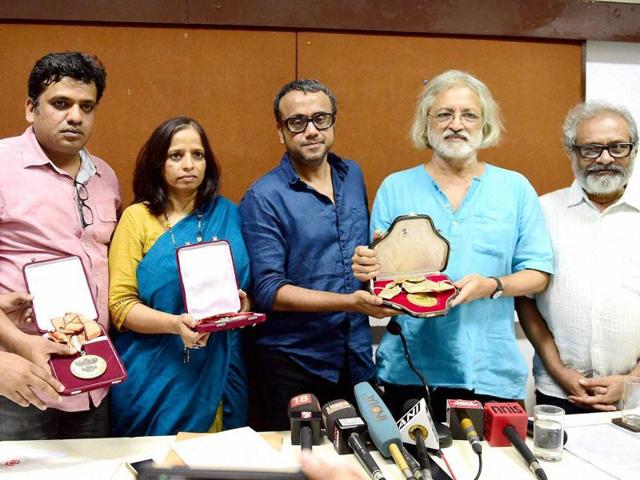 Updated on Nov 03, 2015 01:30 PM IST
Right after documentary filmmaker Anand Patwardhan returned his National Award, he appeared for a television interview and said the current regime has ushered us into "early stages of nascent fascism".
Patwardhan – the director of hard-hitting documentaries like Ram ke Naam, Father, Son, and Holy War and Jai Bhim Comrade – was asked in return by the interviewer, journalist Barkha Dutt, that if "nascent fascism" had actually set in then how come a mass protest by intellectuals was underway.
Patwardhan replied, "We are celebrating dissent while we can. What I'm worried about is when more people do not speak out, things could deteriorate. This is an early warning system."
His comments succinctly explain the concern of intellectuals – eminent writers, filmmakers, historians, scientists and artists – who have collectively spoken up against a vicious atmosphere of communal hatred and intolerance. But the central government, instead of responding, has chosen to keep itself busy by denouncing the protest.
Perhaps, the government believes that it can get away by downplaying the intellectuals' chorus.
After the murder of rationalist scholar MM Kalburgi in Karnataka in August and the lynching of Mohammad Ikhlaq in Uttar Pradesh's Dadri village in September, many writers returned their Sahitya Akademi and other awards over the government's inability to maintain communal harmony and check sectarian strife.
Soon, filmmakers joined and 12 of them, including Patwardhan and Dibakar Banerjee, returned their National Awards. After that, over 50 historians and more than 100 scientists came forward to speak up vociferously against the intolerant scenario in the country.
While Romila Thapar and Irfan Habib led the historians' brigade, Bharat Ratna awardee scientist CNR Rao and microbiologist PM Bhargava were the foremost critics of the NDA government among scientists. Bhargava, in fact, demanded a ban on the RSS for fanning fear among minority communities, while Habib compared the Hindu nationalist body to the Islamic State of west Asia.
Even top business leaders including Kiran Mazumdar Shaw and Narayan Murthy spoke up against plunder on the country's secular fabric, Reserve Bank of India governor Raghuram Rajan also called for tolerance in his address as the chief guest at IIT-Delhi's convocation ceremony.
Even as the protesting intellectuals have been grabbing headlines for the last few weeks, the government seems to have turned a blind eye to the issues they have raised.
Finance minister Arun Jaitley has been one of the most outspoken critics of the "award wapsi". He has called the return of awards a "manufactured rebellion" and the personalities involved "rabid anti-BJP elements". He has said that Prime Minister Narendra Modi is the "worst victim of ideological intolerance".
So much for ridiculing the movement, and only mentioning "Dadri was a stray incident" in condemnation of the unfortunate lynching.
Jaitley also said, "Such incidents bring a bad name to the country." But then, the question is whether we should check incidents like the Dadri lynching only because they are detrimental to India's image. Does a "tolerant society" only have utilitarian value?
In addition to that, the idea of "ideological intolerance" towards Modi doesn't hold true because many of the writers, filmmakers and scholars who have returned their awards have been active opponents of previous Congress-led regimes and its policies, especially during the Emergency.
Historian Ramachandra Guha wrote in The Indian Express, rebutting Jaitley's points. He wrote, "They (the protests) were not "manufactured". There was no organised campaign. It was writers taking decisions as individuals."
The BJP leadership is focussed on demeaning the Uttar Pradesh lynching and murder of Kalburgi as stray incidents for which it is illogical of intellectuals to criticise the central government. This was well articulated by Modi himself.
Well, doesn't a crime as horrific as a Hindu mob lynching a Muslim man and cracking his son's skull open over rumours of beef consumption merit a strong statement and immediate action from the Centre? And, leave alone quick action, could the BJP rein in its leaders like Sangeet Som who visited the disturbed village after the murder and chose to further rake the communal fire by making insensitive comments?
Apart from Jaitley, home minister Rajnath Singh thought the return of awards by writers is "a political conspiracy".
After the protest gathered momentum, Singh said, "Returning awards is not the right thing, I request the writers and scientists to come and meet the Prime Minister and give their suggestions, the Union government will take concrete steps on those."
Singh's response is hardly reassuring.
Isn't it shocking enough for the home minister that a 77-year-old scholar was shot dead just because his writings often challenged the religious beliefs of the majority?
Isn't it sad enough that saffron leaders – whether it be Yogi Adityanath or Sadhvi Prachi – never lose a chance to spew hatred between communities and make derogatory statements regarding the minorities?
Sir, do the protesting intellectuals still need to meet the Prime Minister to make a point?
It's time that the Modi Sarkar realises it can't downplay the protests by intellectuals and artists, who have come to be a strong collective voice for the Indian disenchanted with the current government.
Attempts at name calling will only give a sense, as writer Nayantara Sahgal who was one of the first to return the Sahitya Akademi award put it, that the "government is very rattled and nervous about this huge public response".
What the country needs now is a strong response from the Prime Minister himself, reassuring citizens that no stone will be left unturned to preserve the secular and tolerant culture of India.
Can Modi offer that?
Views expressed by the writer are personal. He tweets as @saha_abhi1990
Close Story
Personalise your news feed. Follow trending topics