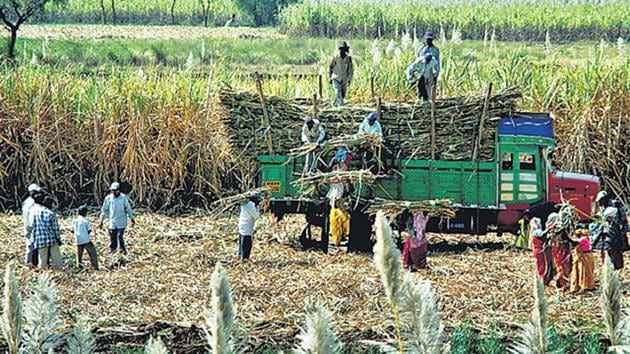 Don't blame farmers for being unreasonable
The problem in these sectors is rooted in a prolonged mismatch in demand and supply. If sugar mills and dairies start going bankrupt because they cannot sell sugar and milk powder, even successful institutions and mechanisms such as cooperatives for dairies and fair and remunerative prices for sugarcane are bound to lose their relevance
PUBLISHED ON SEP 14, 2018 01:24 PM IST
Responses to India's agrarian crisis can be best described by the story of blind men feeling an elephant. One set feels that all that needs to be done is ensuring that Minimum Support Prices (MSP) guarantee returns of 1.5 times over C2, and not A2+FL measure of costs. The basic difference between A2+FL and C2 costs is that the latter includes the imputed value of rent of land, which can be described as the opportunity cost of farming for a land owning household. Another set of people believe that an overhaul of warehousing and processing infrastructure is the solution to the problem. Lack of the same is a big reason why producers of horticultural products see a lot of their produce wasted and can do nothing when sudden production glut or other factors lead to a crash in prices. Then there are those who think that middlemen are the biggest problem in agriculture, because they squeeze farmers' margins. In principle, there is nothing wrong with such arguments. But the situation at hand is much more complex.
This is borne out by the continuing crisis in the sugarcane and milk production sectors. Farmers' anger over pending sugarcane arrears came into the limelight after the BJP lost the crucial by-poll in Kairana in western Uttar Pradesh. Sugar mills, which are supposed to pay farmers, blame the non-payment on unsold sugar stocks and fall in sugar prices. Milk producers in Maharashtra were protesting demanding a hike in prices offered to them by dairies. In an article published in the Indian Express, Harish Damodaran has reported that milk prices offered by dairies in Maharashtra have fallen by around Rs 5-8 per litre in the last one year. The article also warns that the crisis in both these sectors could worsen in the next few months as production will increase while unsold inventories are unlikely to be disposed of.
The irony is that these two sectors do not face the usual problems which have been discussed above. In case of sugarcane, the bigger issue is non-payment of prices for crops rather than prices being lower or non-procurement. The dairy sector is among the few success stories of the cooperative model in India. In almost all states, there exists infrastructure to procure and sell/process milk without much of a role for middlemen.
Herein lies an important and often under-appreciated aspect of India's agrarian crisis. It is not confined to areas where there is no procurement or there is a lack of processing and storage facilities. Sugarcane and dairy are big examples of this. The problem in these sectors is rooted in a prolonged mismatch in demand and supply. If sugar mills and dairies start going bankrupt because they cannot sell sugar and milk powder, even successful institutions and mechanisms such as cooperatives for dairies and fair and remunerative prices for sugarcane are bound to lose their relevance.
There is nothing to guarantee that the government starting widespread procurement of food grains at desired MSPs and proliferation of storage infrastructure will not lead to a similar glut in other commodities. After all, it is fair to expect that better prices and logistical facilities will encourage farmers to increase production.
Logically speaking, there are two ways out of such a crisis. Either we put a voluntary limit to agricultural growth, or ensure that domestic consumption or export markets make sure that rising production is disposed of in a proper manner. The first, as is obvious, will entail a freeze on agricultural incomes, something we cannot afford. The second will not happen on its own. Unless incomes in agriculture, which is where the majority of India's workers are employed, rise significantly, average Indian diets are unlikely to diversify to levels which will increase the demand for agricultural products in the country. A large scale export push in agriculture will also require strategic intervention by the state, given the uncertainties which cloud the global trade regime today and the dominance of cartels in export of important agricultural products.
The problems which have been discussed above are far easier to list than solve. It is also a fact that there is a limit to how much the state can intervene to make sure that agricultural markets are always in equilibrium. However, what it does underline is the pitfalls of handling an agrarian economy as big as India's without a holistic policy framework. State intervention, which often works in silos and is driven by short term considerations, often ends up creating more contradictions than it can solve. It is unfair to blame farmers for being unreasonable when there is neither coherence nor larger reason in our agricultural policy.
roshan.k@htlive.com
Close