Here's why 'Bihari' Nitish Kumar once again became friends with 'Bahari' Modi
Updated on Jul 27, 2017 04:42 PM IST
Nitish Kumar had realised his fling with the RJD and rest of the anti-BJP parties was not going anywhere.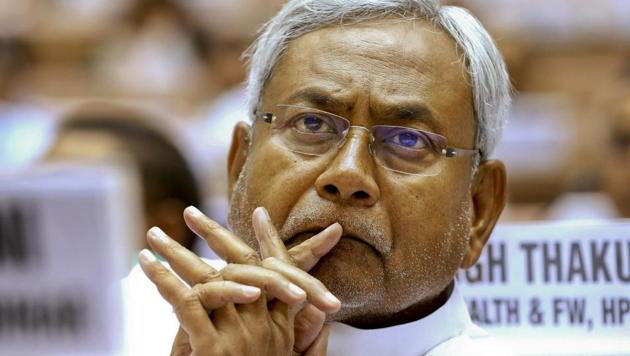 Bihar chief minister Nitish Kumar's decision to dump the grand alliance and waltz back into the BJP's eager arms may have come as a surprise but some hard-nosed political calculations have gone into the 66-year-old JD (U) chief's decision. (Live updates)
On the face of it, Kumar was uncomfortable with corruption charges against RJD chief Lalu Prasad, his deputy chief minister son Tejashwi Yadav and other family members.
Kumar stood for probity in public life, while the senior alliance partner was not even willing to explain the accusations of corruption, the JD (U) has said.
Away from these public statements, Kumar had realised his fling with the RJD and rest of the anti-BJP parties was not going anywhere.
Impressed with his skills that saw opposition Janata Dal stitch together a ruling coalition in Bihar in 1990s, Prasad had called Kumar Chanakya, the Indian statesman and philosopher who is celebrated for his political acumen.
It was the Chanakya in Kumar that called for a joint opposition to take on Narendra Modi and his BJP in the 2019 national election.
He was best placed to say so. It was he who had withstood the Modi wave to humiliate the BJP in the state election a year after the saffron party clinched a huge win in the national election.
UP blow
But his efforts met with resistance and Kumar was humiliated, his loyalists say.
Uttar Pradesh is a case in point, they argue. Ahead of the state election earlier this year, Prasad managed to convince the ruling Samajwadi Party, with whom he shares family ties, to keep Kumar out of the equation though there was a talk of Bihar-like alliance in UP.
The Congress and the SP tied up. The JD(U) was not offered a single seat in the 403-member assembly. Kumar was in favour of roping in Mayawati's Bahujan Samaj Party to broad-base the alliance but found no takers.
Though his efforts failed in UP, Kumar was still the best person to take on Modi, as a majority of the opposition leaders battled corruption charges, something that the BJP would have made the most of.
Kumar also realised that while Prasad was a partner in Bihar, he was working overtime to ensure the JD (U) or he didn't get a larger play in national politics.
The RJD chief's decision to hold an anti-BJP rally on August 27 in Bihar and project it as a gathering of a larger opposition front didn't go down well with Kumar. Prasad then offered Mayawati a Rajya Sabha seat from Bihar, another signal that the RJD was preparing for life beyond the JD(U).
That he had doubts about the opposition coming together became obvious when he broke ranks to back NDA's presidential candidate Ram Nath Govind. "The opposition cannot be reactive but must have a substantive policy to fight NDA," Kumar said when the Congress and the RJD questioned his decision to back Kovind.
That was also the time he ruled himself out of the race for 2019, saying he was not interested in being prime minister.
Things were not too smooth with the Congress as well, which accused Kumar of changing stance over his support to Kovind.
'Choking situation'
The CBI raids against Prasad and his family offered him a perfect opportunity to end the coalition, which was fraying.
JD(U) spokesperson Ajay Alok said the RJD was hampering governance.
"We were very uncomfortable. Development was at a standstill. The RJD was stonewalling JD(U)'s attempts to move forward, carry on development works and act against crime and corruption," Alok said. "We were not comfortable with the RJD as we were with the BJP in 2005."
Kumar said as much.
"The situation was choking us. The simple fact that the government's policy to be transparent, clean and pursuit of zero tolerance for corruption was not acceptable to the RJD," the chief minister said hours after announcing his resignation.
"I had never asked for Tejashwi's resignation, only an explanation in public domain. Had the RJD accepted and stepped aside and not shown the intransigence, the grand alliance would have survived."
The Nitish-BJP alliance, from 2005-2013, was by all accounts a success. Bihar made steady progress, crime was down and women and Dalits were two sections that benefitted from emphasis on governance. The NDA partners also managed to bridge some of the caste divide.
But the reverse happened after the tie-up with the RJD, JD (U) leaders say. All the gains were squandered away. Crime was up and administration was being run along caste lines. The split was just a matter of time, they say.
Kumar's "ghar wapsi" will compromise his support among minorities and make it difficult for him to explain his dalliance with corruption-tainted Prasad and BJP but if he manages to put Bihar back on growth path, he will have a credible explanation for switching sides, feels the JD(U).
Back as his deputy, senior BJP leader Sushil Kumar Modi said, "We will re-script the Bihar's development post-2005 to emerge stronger. Of that, there is no doubt."
Whether the break-up is a masterstroke from "Chanakya" or a huge miscalculation, only time – and voters -- will tell.
Personalise your news feed. Follow trending topics