JNU 'sedition' row: When media became part of the story
Feb 22, 2016 08:04 PM IST
In their bid to elbow out competition, or perhaps in line with their agendas, or both, several news channels opted to broadcast unverified clips of alleged seditious speeches and slogans raised at the Jawaharlal Nehru University during a students' protest.
"Reports and images circulate the globe with amazing speed via Twitter, YouTube, Facebook, blogs, cell phones, and email. Speed puts pressure on newsrooms to publish stories before they are adequately checked and verified as to the source of the story and the reliability of the alleged facts. Major news organisations too often pick up rumors online..." Stephen JA Ward, an internationally recognised media ethicist writes in a paper on 'Digital media ethics'.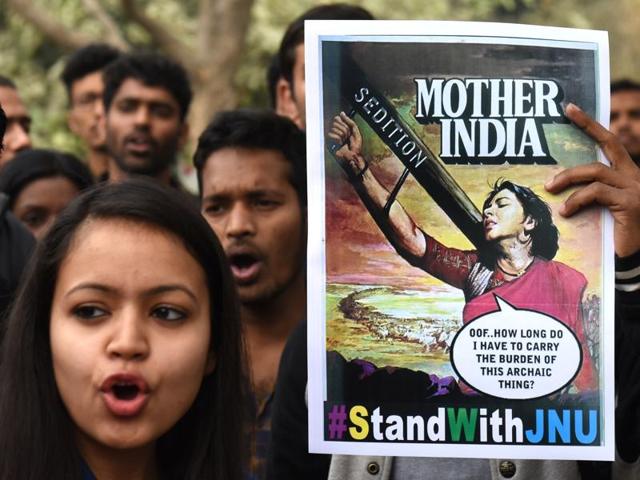 What Ward -- an honourary fellow at the School of Journalism and Mass Communication at the University of Wisconsin-Madison -- wrote as a caution was witnessed in the country's newsrooms in the past week.
In their bid to elbow out competition, or perhaps in line with their agendas, or both, several news channels opted to broadcast unverified clips of alleged seditious speeches and slogans raised at the Jawaharlal Nehru University during a students' protest.
Read: Bassi tells JNU students to join Delhi Police probe and prove innocence
What followed were high-pitched debates, shrill pontification, and provocative statements on news channels which are trusted to report with accuracy and objectivity.
The ramification of airing these unverified clips, which are now being forensically checked for their veracity, has been immense. Their broadcast led to the arrest of the JNU students' union president Kanhaiya Kumar on charges of sedition, his subsequent manhandling by a group of advocates in a court complex and further fuelling the students' unrest. It also led to charges being framed against former Delhi University professor SAR Geelani for raising anti-India slogans at the Press Club of India.
But a greater impact that the broadcast of these unverified videos has had is in exposing the media's rush to judgements, sidestepping the precepts of media ethics and objectivity.
"There is a sense of immediacy in breaking news. But it is one thing to rush with news if you have shot it, however, if the source is secondary, then the media must remember that on the other side are rights of people, their reputation. There is a delicate line that the media must be aware of," says professor Jaishree Jathewaney, who teaches advertising and public relations at Indian Institute of Mass Communication, Delhi.
There has been a sharp criticism of the coverage and the 'trial by media', with several news organisations being accused of bias and toeing the establishment's line and others of siding with those opposed to the government.
And in this chorus of voices condemning the media's foolhardiness in running reports without the due diligence, there are a discernible few coming from within.
Noted Hindi broadcaster Ravish Kumar of NDTV India opted for a blank screen to make a statement about the flawed news coverage. His show, a protest in its own way, broke the internet.
'Debate TV leading India into darkness': Ravish Kumar's NDTV show
Instead of visual storytelling, Kumar just played voices on a blank screen, including those of his competitors who sat in judgement and pronounced verdicts on the students' unrest.
"En masse, television started making traitors out of people. Anchors kept on yelling and perceptions kept on perpetuating. And I kept drowning in the din of such savage voices. It felt like we were losing the balance, like something was being overdone. The question wasn't of right or wrong. When we start feeling that our word is the final one that is the time to stop and reflect. We must give space to doubt. And question once more," Kumar says in a piece about his programme on the channel's website.
Kumar's programme was in some way reminiscent of the Indian Express protesting Emergency imposed in 1975, by leaving the editorial section blank.
Even as his programme is being hailed as a tipping point in the shrilled discourse that reportage has turned into, Kumar says his intention was not preach.
"I did not host this episode of Prime Time to 'fix' television, but merely in the hope that when we find ourselves in such darkness, we also find it within to ask questions or stop and reflect. We did it today, somebody did it yesterday, and someone else will do it tomorrow. But for now, television has lost its vision. Debate TV is butchering spaces for logic and reason. It is being used to slaughter public opinion," he writes.
In another newsroom, where the decision to air the unverified videos was taken, and a team put to work to embellish the videos, ostensibly to help the viewers decipher the ambiguous slogans, a young producer opted to quit.
On Sunday, news trickled in of Vishwa Deepak, a producer at Zee News having resigned from the TV channel, protesting the "biased coverage" of the JNU protests.
Read: Journalist resigns from news channel over JNU coverage
The channel had played videos showing students raising anti-India slogans in the JNU campus during a protest against the hanging of Parliament attack convict Afzal Guru on February 9. These videos were used as evidence by the Delhi Police to file an FIR and arrest Kanhaiya Kumar on charges of sedition.
In his letter to the channel, Deepak talks of biases in reporting: "...The video which had no 'Pakistan Zindabad' slogans in it, we played repeatedly to spread madness. How did we establish that Kanhaiya and his associates were chanting slogans when all we heard were voices coming from the darkness? Our biases made us hear Bhartiya Court Zindabad as Pakistan Zindabad."
It is these inherent biases and the "tendency to exaggerate" that Dr Kanchan Malik, professor of media ethics at the Hyderabad Central University, says media needs to watch out for.
"There has been largely a tendency to exaggerate or run statements not cross-checked from multiple sources. Sometimes, in the rush to break news, there is a bias in reporting," she says.
Malik also disapproves of the attention-grabbing, acrimonious debates that dominate prime time TV. She says though TV is a platform for discussion and debate, the format of the programmes with limited time allocated for speakers does not allow for views to be presented in a coherent form. "There is not enough time for nuanced discussions. It's usually against or for, but we all know the truth lies somewhere in between," she says on the media's role for introspection.