PM knows best: Dalit atrocities can end with empowerment
Published on Oct 19, 2016 10:11 PM IST
The assistance of the State towards the community must continue. But the policy of reservations must be rationalised. If we have a third-generation beneficiary of reservation policy, it amounts to depriving someone whose forefathers could not avail themselves of it. It is this that Mr Modi can now look at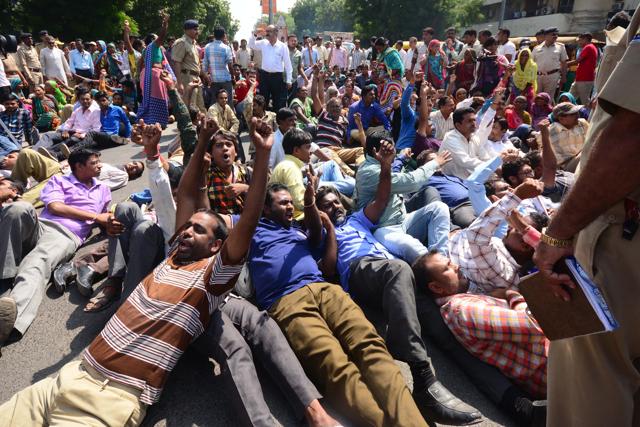 Prime Minister Narendra Modi expressed the right sentiments when he said that he felt like hanging his head in shame whenever an incident of atrocity on Dalits was committed. Mr Modi had expressed similar sentiments before, and anger too when he called most of the gau rakshaks, who had tortured Dalits in many parts of the country, anti-socials in the garb of cow-protectors. Right from the time he started the election campaign in 2014, Mr Modi had made the struggle against poverty his poll plank. In his view, decades of Congress rule at the Centre could not do much to ameliorate the conditions of the Dalits. He is right, in a sense. That there is a bit of past to any atrocity on the Dalits cannot be denied.
Read: Maratha stir: Dalits fear return to 'old days'
But apart from this there are some other factors that have ground the community. Sufficient empowerment cannot take place in a community without sufficient enrichment, which can come through a fight against the inegalitarian distribution of social wealth. How can such a fight come about? Through social movements can be one answer. But right now, there isn't any such movement in view. And in the absence of such a movement things can only take a turn for the worse for the Dalits. When there is nothing to halt it, the disparities between weaker and stronger communities grow. And hence it is here that the State must step in.
What ails the Dalits? The proportion of their share in land ownership falls far below many other communities, which are their tormentors in rural areas. Their level of literacy fares poorly in comparison to that of the country's average. They have quotas in government services and they often remain unfilled because of the non-availability of good candidates. With deprivation all around, it is no wonder that they become vote-banks.
Read: Dalit writers forced to leave literary meet over Shivaji remarks
However, there are two silver linings now. One is that because of decades of reservation there is now a Dalit middle class with its representation mostly in government. It is this leadership through voluntary contributions can invest in the betterment of the community. Second, there are now Dalits who aspire to be industrialists (Stand-Up India is a step in that direction). This is a process that can be taken forward to impart to the Dalits basic lessons in business development. One can hope to see Dalits setting up business schools also.
All said and done, the assistance of the State towards the community must continue. But the policy of reservations must be rationalised. If we have a third-generation beneficiary of reservation policy, it amounts to depriving someone whose forefathers could not avail themselves of it. It is this that Mr Modi can now look at.
Personalise your news feed. Follow trending topics