The Modi government's inclusive policies have unified the nation
In four years, the Modi government has sought to "include" all Indians – rural, urban, differently enabled, young, old in a "new" Indian economic story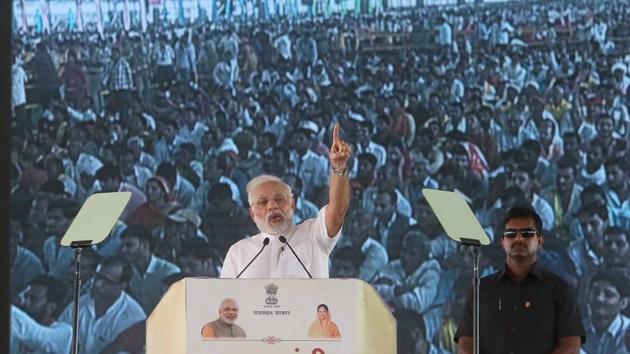 Updated on Jul 11, 2018 06:04 PM IST
Churchill derided India as a mere "geographical term". Jinnah almost proved him right, forcing Partition based on a belief that "any idea of a United India [is a]…terrific disaster". The implied threat in their words remains relevant — that India becomes vulnerable when its people are divided along narrow, vested causes.
It is also perhaps India's tolerance that we treat Churchill with inordinate respect, instead of calling him out as the soft racist he was. We even rancorously debate putting up portraits of the original divider, Jinnah.
Among our founding fathers, Babasaheb Ambedkar realised that inclusion and equality were a sine qua non for a united India. Drafting the Constitution, he enshrined principles that treated all citizens as equals, and guaranteed them equal opportunity and access to national resources. This, despite entrenched institutional opposition which tried to sideline him.
Despite the de jure equality, our polity developed as fragmented, competing coalitions of vested interests. Caste, region, sector, everything divisive became fair game. Socialist policies retarded growth rates; concentration of wealth, especially the black variety, a growing number of excluded citizenry. They also resulted in the zero-sum politics of taking from one group of citizens to appease another. An egalitarian and inclusive society acting as the glue of a strong nation remained distant.
Seventy years later, the Modi government's policies have added an equality and inclusion-focused economic complement to the legal framework Babasaheb put in place. Zero-sum policies have been replaced with an inclusive growth agenda where everyone can benefit from a growing economic pie. Under the "sabka vikas" umbrella, the policy themes of economic security, equal opportunity and human dignity are strengthening the sense of ownership felt by citizens, and with it, unity.
For years, underprivileged Indians suffered — from rain, drought, pestilence, indebtedness, social expenditure. The Jan Suraksha Yojana schemes provide a rudimentary safety net to the most economically vulnerable citizens. Insurance has become a reality for crores of poor Indians. Unorganised sector workers have access to a pension for the first time. Long anguished farmers, falling into debt traps with each poor harvest, now find some succour through comprehensive crop insurance. And though still in an embryonic stage, Modicare will, if national interest trumps petty political wrangling, establish a global benchmark in health insurance.
The Jan Dhan Yojana created 300 million new bank accounts. Despite naysayers, most new accounts remain active and have positive balances. Women, especially in rural India, can save and get more control over their finances and their lives. Bank accounts unlocked the power of direct benefit transfers; 200 million beneficiaries no longer need to stand in line or pay touts to get their own money.
The natural next step was creating a platform for entrepreneurial opportunities. Start Up India provided the framework, and Mudra provided capital. Hundred million-plus Mudra loans suggest millions of entrepreneurial dreams becoming a reality. Equalising opportunity also meant incumbent "seths" lost the right to control businesses forever. Often the cost of this control was borne by public sector banks through a cycle of evergreening and multiple loan restructurings. The IBC has changed the scenario. Successes (of the IBC) such as Bhushan Steel are making business a more level playing field.
Vast numbers of Indians live in squalor, often in close proximity to oases of privileged first world living. Swachh Bharat metamorphosed our approach to civic responsibility. Cleanliness is not the municipality's, the neighbour's or the sweeper's responsibility. It has become everyone's obligation. Anoushka Sharma checking a littering driver is a manifestation of this new awareness. Initially derided by many elites, more than 70 million new toilets are testimony to a newfound self-esteem for millions of underprivileged — especially women and children in India's remotest corners. Similarly, the drive to make government buildings accessible to the disabled is a step towards making them full members of an inclusive India.
In four years, the Modi government has sought to "include" all Indians — rural, urban, differently enabled, young, old in a "new" Indian economic story. Much more is needed but progress no longer means reallocation, taking away from one to enrich another. There is a belief that economic progress and opportunity can be inclusive. It is a belief that can overpower divisive political-economic agendas and create an amalgamating foundation of common interest. Six decades after his death, an economic progression to Babasaheb's constitutional work to create a united India has been provided by giving hundreds of millions of Indians a real stake in economic progress.
Saket Misra is an investment banker
The views expressed are personal
Close Story