Latest from jan dhan yojana
Prime Minister Narendra Modi introduced schemes like PM Jan Dhan Yojana, Ujjwala Yojana, Kisan Samman Nidhi Yojana and others since assuming office in 2014.


Published on Sep 17, 2022 12:07 PM IST
The Centre's scheme allows the Jan Dhan account holders to withdraw money upto ₹10,000 in the form of a short-term loan.


Updated on Aug 28, 2021 06:09 PM IST
The scheme provides ₹2 lakh for accidental death and full disability, and ₹1 lakh for partial disability for a premium of ₹12 per annum.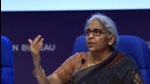 Updated on Aug 29, 2021 04:27 AM IST
By
Rajeev Jayaswal
, Hindustan Times, New Delhi
"I would like to applaud the untiring efforts of all those who have worked to make #PMJanDhan a success. Their efforts have ensured the people of India lead a better quality of life," PM Modi said in his tweet.


Updated on Aug 28, 2021 11:52 AM IST
Written by Harshit Sabarwal | Edited by Meenakshi Ray
, New Delhi