UP elections: Allahabad's no-win choice between Modi's new BJP, Akhilesh's new SP
Updated on Feb 25, 2017 11:13 AM IST
When Modi, Shah and the Akhilesh-Rahul Gandhi team will arrive to campaign in Allahabad next week, they would realise that 2017 isn't 2014 or 2012. The Allahabadis who gave them brute support to rule in Delhi, Lucknow are conscious of their diminished presence in the power structure.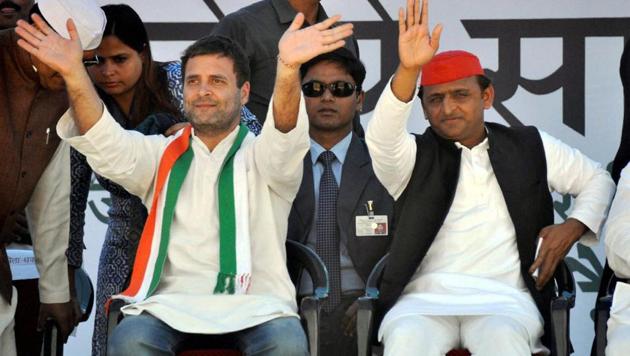 Hindustan Times, Allahabad |
Vinod Sharma
Atal Bihari Vajpayee's disappearance from the BJP posters has reinforced for the Brahmins of Uttar Pradesh a message they've long received and mulled over — that the space they once occupied on the saffron platform has got ceded to other backward classes (OBCs).
It's a subject of debate in this politically articulate community that perceives the change as "OBCisation of Hindutva". A BJP insider summed up the alienation: "UP ki chunav chaalisa mein haashiye pe khada vipr (Brahmin)."
He saw two BJPs on display: one of Vajpayee that gasps for breath and the other of Narendra Modi and Amit Shah which gave tickets to 80-odd lateral entries from other parties.
The Brahmins have felt punished by the "new" BJP's caste-and-class politics of backward versus forward and poor versus rich. The marginalisation is illustrated by their token representation in the BJP's top echelons. The party has no Brahmin state unit chief in any big state.
UP was an exception until elections. Here an OBC leader, Keshav Prasad Maurya, elected from Allahabad's Phulpur Lok Sabha seat — once associated with Pandit Jawaharlal Nehru and Vijayalakshmi Pandit —replaced Lakshmi Kant Bajpai as the BJP's state president.
Read| UP elections: BJP looks to ride on an invisible alliance of backward castes
What applies to the erudite community is true of Allahabad that's home to 400,000 Brahmins.
It boasts of five prime ministers: Nehru, Lal Bahadur Shastri, Indira Gandhi, Rajiv Gandhi and VP Singh. Even Chandrashekhar cut his teeth in politics as a student leader at University of Allahabad.
The pantheon is completed by HN Bahuguna, the best PM India never had, and veteran socialist Janeshwar Mishra whose political struggles earned him the sobriquet of "chota Lohia".
Mishra's portrait on SP posters is a reminder to the new BJP that legacies count in regions steeped in history. Also, it sits well with Akhilesh Yadav's new SP seeking or pretending to rise above sectoral interests.
"Ye Brahmin daab (influence) ka shehr hai," noted former AUSU president Baba Awasthi. The names he rattled out to make the point included two from the BJP: MM Joshi and Kesri Nath Tripathi. The new BJP has little use for these superannuated Hindutva heavies.
So when they arrive to campaign here next week, Modi, Shah and the Akhilesh-Rahul Gandhi team would realise that 2017 isn't 2014 or 2012. The Allahabadis who gave them brute support to rule in Delhi and Lucknow are disturbingly conscious of their diminished presence in the power structure.
None of the nine SP legislators elected out of the district's 12 seats was made minister by Akhilesh, who rode to power on the wave that originated from eastern UP. Even when the BJP triumphed, Varanasi got a PM, Allahabad nothing!
Read| UP election: How BJP changes its narrative within 50 kms, from Hindutva to secularism
Let down by both, the electorate are driven more by the urge for local empowerment of social groups to which they belong.
The bulky minority support for the SP-led coalition does trouble certain sections. But there's no perceptible communal polarisation that lifted Modi sky high in the general elections. Credit for it is given to Akhilesh's personable image and his tie-up with Rahul Gandhi.
"But for demonetisation and the SP's partnership with the Congress, the BJP would've swept to power," said another AUSU president Shyam Krishna Pandey. The BJP cadre disaffected by candidatures of outsiders is inert or furtively helpful to the alliance.
The SP-Congress are rated to win at least six seats and the BJP sure of just two. The rest may go to the BSP or the pro-Kurmi Apna Dal that's in alliance with Modi.
Compared to 2012, that'll be an improvement for the BJP that won no seat in Allahabad. But the prognosis is disheartening in contrast with the general polls when the party pocketed both Lok Sabha seats.
Regardless of who wins, will Allahabad regain its lost clout, its past glory?
Surmised Baba Awasthi: "Regional players have bigger stakes in western and central UP and national parties are scared of our brilliance and sense of history." Add to that the Congress's unchecked decline and Allahabad's life story will be complete.
(Allahabad goes to polls on February 23)
Vinod Sharma is the political editor of Hindustan Times
Read| UP elections: Why a hung assembly can't be ruled out in this battleground state
Personalise your news feed. Follow trending topics