Uttarakhand election: Menace of illegal mining along rivers not on poll agenda
Hindustan Times, Haridwar/Haldwani |
Chetan Chauhan and Abhinav Madhwal
Feb 15, 2017 11:17 AM IST
As election frenzy peaks up pace in Uttarakhand, spurt in illegal mining across Ganga is visible with tractors carrying sand and stones jostling on kacha (temporary) roads along the 15km dry bank, symbolising politician-mining mafia nexus.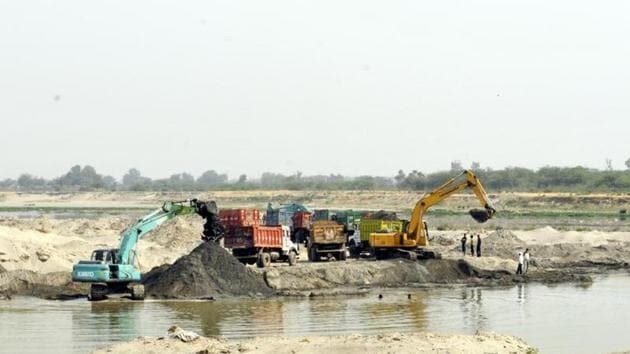 Although both the Congress and the BJP have promised ban on mining within 5km radius of river Ganga, none have implemented it, claim locals.
This election, they are not even talking about it, as the mining mafia is a major poll funder and have stake in all political parties. Both Congress vice-president Rahul Gandhi and Prime Minister Narendra Modi skipped the issue during their public functions in Haridwar.
"There is not even a single legislator or prominent leader in Haridwar who does not own or have a stake in stone crusher. Of course, it is all benami," said a senior police official, who was not willing to be quoted.
Dushyant Mainali, who has been fighting legal battles in Haldwani against the pollution generated by the quarry business, said, "Many ministers are involved in running quarry business through proxy."
As per those in the mining associations', around ₹150-200 crore is what they have provided — directly or indirectly — to political parties this season. Bhumesh Agarwal, former president of the Stone Crusher's Association, said that some quarrying businessmen might be giving funds to the political parties, but the association is not involved. Mining (mostly illegal) is said to be the second biggest money grosser in Uttarakhand after tourism with an annual turnover of over ₹2,000 crore.
Ground Report
Bhogpur village in Haridwar rural, from where Harish Rawat is contesting, is epicentre of rampant illegal mining in the region with sand and stones been lifted from close to the river even two days before polling. Farm land has been dug up 10 times of the permissible limit up to 30 feet, sand and stone have been removed from the river bed and strong voice of crushers creates ripple effect in air.
"There is demand for money (for polls) and miners have got a free hand," said Sandeep Saini who runs a shop in the village. "But all this mining happens in six hours between 10 and 4 in the night when the vigil is low in connivance with the authorities," he added.
Locals say the spurt in mining, mostly illegal, happened during Harish Rawat's tenure as he allowed leasing of farm land to remove stones and sand claiming that it would improve agriculture productivity and reduce chances of flooding. A letter of agreement from the farm owner was more than enough to get mining permission resulting in hundreds of approvals given in the last two years of the Rawat government.
"No science can support such a fallacious argument," said Swami Shivanand Saraswati, who has been running a campaign for last 20 years to end mining in Haridwar saying it has destroyed the river. "The pollution levels are higher, satellite imagery shows the green cover has gone because of mining and entire ecological water flow of the river has changed," he said.
But, those at villages in Bhopur, Ajitpur and Laksar oppose Swami saying mining has created a new economy in the region that provides employment to young and money to the poor, but are against rampant illegal mining mostly by "outsiders".
"Not even a single stone crusher here is owned by a local. People from Noida, Lucknow and Haryana have set up crushers. We have been turned slaves in our own land," said Gangar Ram of Bhogpur village, demanding crackdown on illegal mining and "people-centric" plan to save Ganga.
District magistrate S Murugasan, who was posted in Haridwar by Election Commission a fortnight ago, was not available for comments. His office said he was busy making arrangements for the polling day, February 15.
Politics-Mining Nexus
In an alleged sting operation that rocked the state a few months ago, Congress legislator from Dwarahat was heard saying how the quarry lobby from the state's Terai region allegedly provided money to protect the Harish Rawat-led Congress government.
"For me, both Ramesh Pokhriyal Nishak (BJP chief minister) and Harish Rawat (present CM) are same. They promote mining lobby," Saraswati said in a choked voice. "The BJP has also looted the Ganga in name of cleaning it as the Congress did. We need to save Ganga for future generations".
Workers of the Congress and the BJP, the two political parties in fray in Uttarakhand, admit of politicians having stake in mining but claim that it was for benefit of locals as it provides employment in this poor belt.
"Only those sitting in air-conditioned offices oppose mining. Ask anywhere here, they will support mining," said Amar Singh Saini, chief campaign manager of BJP candidate from Haridwar rural Swami Yatishwar Anand.
Subhash Chaudhary, a mining baron and a BSP candidate from neighbouring Lakshar assembly segment, said mining had been allowed on demand of locals. "It (mining) provides income cushion as earning from agriculture is falling," the businessman from Noida said.
Mainali said the guidelines on the crushers were changed seven times in recent past due to pressure from the influential lobby showing "money power and clout" they enjoy. And in campaign, apart from money, they also provide the muscle power through their strongmen.
(With inputs from MS Nawaz in Haridwar)
Follow
Karnataka election
news, exit polls, election schedule and results on Hindustan Times