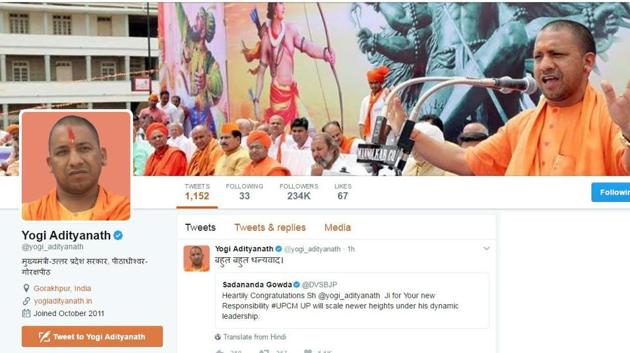 Yogi Adityanath has 87k new followers on Twitter in less than two days
As many as 147,000 people were following him on Saturday evening. By Sunday night, the number went up to 219,000 and by Monday afternoon, it crossed 234,000.
UPDATED ON MAR 20, 2017 02:17 PM IST
From the chief priest of Gorakhnath temple to the chief minister of the most populous state in India, Yogi Adityanath has come a long way. His popularity has not only swelled on the ground but also on social media.
His Twitter handle is proof. The chief minister has added more than 87,000 new followers in less than two days.
As many as 147,000 people were following him on Saturday evening, when elected MLAs picked him as their leader. By Sunday night, the number jumped to 219,000 as television channels started beaming footages from Smriti Upvan, where he was sworn in as chief minister by governor Ram Naik. By Monday afternoon, the total following crossed 234,000.
On the other hand, the Yogi, who was following only 28 Twitter handles till Saturday evening, has started following more accounts.
The UP Police (@uppolice), Government of UP (@UPGovt), UP chief secretary (@ChiefSecyUP) and chief minister's office, UP (@CMOfficeUP) are some of his recent interests, besides his two deputy chief ministers, Keshav Prasad Maurya and Dinesh Sharma.
The Yogi has been following Prime Minister Narendra Modi, PMO India, BJP, its president Amit Shah, home minister Rajnath Singh, finance minister Arun Jaitley, tourism minister Mahesh Sharma, MP chief minister Shivraj Singh Chouhan, Niti Ayog and others.
Adityanath, a five-time MP from Gorapkhpur, joined Twitter in 2011, three years before Lok Sabha polls. He usually retweets posts from his party's handle and has 1,152 tweets in total.
The current cover photo of his Twitter handle shows him addressing a gathering in his trademark saffron attire as several seers listen to him. A banner of Lord Ram forms the background.
Interestingly, former CM Akhilesh Yadav has 2.79 million followers on Twitter. But recently, he un-followed few government accounts like that of UP Police, Government of UP, UP chief secretary and UP Chief Minister's office.
Close