Love and Relationship Horoscope for January 17, 2023
Jan 17, 2023 06:00 AM IST
Horoscope Today 17 January, 2023: Astro tips for these committed partners. Find the love daily astrological prediction for Aries, Libra, Capricorn, Pisces, and other zodiac signs for January 17.
Aries: Whether you're in a committed relationship or looking for love, you could be feeling a bit perplexed by your emotions. You are uncertain as to the future of your current relationship. Do not pass any kind of judgement on your feelings and internal state. As a first step, speak to a buddy and have an honest conversation about how you feel. Allow them to help you straighten your thoughts.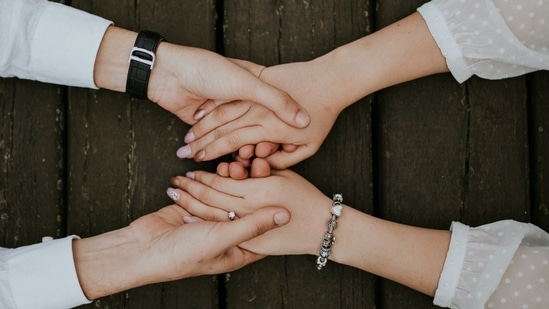 Taurus: Take stock of the responsibilities you currently have in your romantic partnership. There are indicators that your companion is unhappy about something and could express that discontent to you today. Keep your commitment and don't put off having the conversation till tomorrow even if you have to compromise on other fronts. Mend the rift before it's too late to save the connection.
Gemini: A blast from the past might help you strengthen your current romantic bond. You may find yourself thinking fondly of times past today. It's beneficial to revisit past moments to cull out positivity and fondness for your relationship. There's a chance that you'll recall information that will come in handy. Perhaps a solution to a current problem will pop into your head.
Cancer: Now is the time to invest in your relationship. You two seem to be quite happy together, but for various reasons, you may not have been able to devote much time to your relationship as of late. If you ignore your partner, they may feel unloved. If you take the time to be forthright with your partner about how you feel, that will help to heal any hurt feelings that may have occurred.
Leo: Get some fresh energy and drive in your current relationship. You tend to keep a lot to yourself at times, and today would be a good day to work on that a little bit. Get to know the person you're seeing by making time for them a priority in your life. Include some time for things which can make your personal life happy. Have a nice chat and have a good time with each other.
Virgo: If you take the time to talk to your significant other today, you'll both feel more at peace. You'll both feel like you're performing some deep introspection and looking to your partner for validation. Take the initiative to learn more about your companion. In the long run, you'll be lot closer to your partner if you take advantage of this opportunity to talk openly with them.
Libra: Do not squander your time fantasising about a person who does not exist. Don't get so worked up over the little things that you miss out on the exciting events that are happening around you. Even if you try to push away your love feelings, you won't be able to avoid them forever. If you are willing to consider a wide range of possibilities, you will find what you are seeking.
Scorpio: Temporarily being away from your significant other may be making you anxious right now. Your partner's work trip out of town has probably left you feeling stressed about a lot of things. Don't worry so much about them; they will be back soon. Don't be clingy; give your partner room to re-enter the picture when the timing is appropriate and bring fresh enthusiasm with them.
Sagittarius: The current state of your relationship appears to be complex and you should be absolutely certain that this is the best choice for you. They may encourage you to take a chance, but ultimately, you must determine if the potential for disappointment is worth the risk. Consider if this person is the one you envision spending the rest of your life with and if you connect with them strongly.
Capricorn: Today you will feel like you're floating on air since all your hard work together in the past has paid off and you're pleased in your relationship. Your significant other may surprise you with sweet gestures of affection that will improve the mutual bonding. If you want your connection with them to flourish, you should do the same for them. This will make them feel loved and wanted.
Aquarius: You shouldn't expect to have the most intense date of your life if you go out today. Normal, mundane topics such as work and family obligations may dominate the talk. Avoiding issues can only make your connection weaker, therefore it's crucial to deal with them. Think intelligently about your future together and how to spend your time with your current relationship.
Pisces: It looks like things in your life are now chaotic. Work and personal life both appear to be in disarray. Your significant other has been attempting to help you straighten things out, but you may have been avoiding their assistance. You may need to yield to your loved ones today. Right now, it's important to put work aside and spend time with family and friends.
By: Neeraj Dhankher
(Vedic Astrologer, Founder - Astro Zindagi)
Email: info@astrozindagi.in, neeraj@astrozindagi.in
Url: www.astrozindagi.in
Contact: Noida: +919910094779