Bhopal woman attacked with acid, assailant found dead
A 21-year-old woman was on Friday attacked with acid in Bhopal by a man who later allegedly committed suicide by stabbing himself, police said.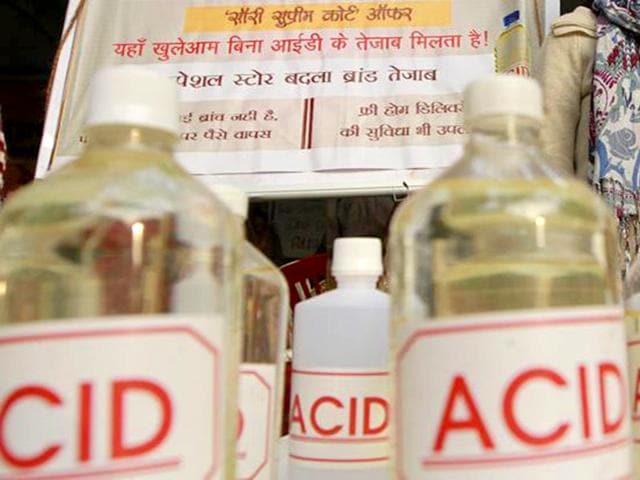 Updated on May 22, 2015 11:08 PM IST
A 21-year-old Bhopal woman suffered 50% burns after she was attacked with acid on Friday by a man who had been sexually harassing her for a year.
The assailant was later found dead with multiple stab wounds on his body some distance away from the point where he attacked the woman.
The victim, Renu Sahu, was being treated at a private hospital where her condition was stated to be stable.
Sahu, who works as a gym instructor, spoke to the media at the hospital and recounted the horror.
"I was on my way to work on a two-wheeler this morning when Sanjay Patil and one Irfan started chasing me. To avoid them, I tried to speed up but they soon intercepted me and threw acid at me from a bottle. I lost consciousness and awoke to the sounds of a crowd gathered around me. My mother didn't answer the phone, so I called my gym manager who took me to hospital," she said.
Passersby caught Patil, 47, and beat him up. He was taken to a hospital where he was declared dead. Ifran absconded from the scene of crime.
Superintendent of police Arvind Saxena said the case was being investigated.
Initially, word spread that the assailant committed suicide by stabbing himself but given the multiple stab marks on his body doctors who performed the post-mortem examination ruled out suicide and concluded it was a case of murder.
Talking to Hindustan Times, senior superintendent of police Raman Singh Sikarwar said, "We are yet to get the post-mortem report. However, as per the doctors' statement, the man was murdered. But at this juncture we don't rule out the possibility of either murder or suicide."
Police are reported to have detained at least four persons, including the gym manager. However, the police did not confirm that officially.
India made acid attacks a separate class of crime in 2013 amid growing incidents of revenge on women who had spurned sexual advances or rejected a marriage proposal.
The courts have promised free medical treatment and the government has moved to stop the free sale of acid but such attacks continue unabated, a fact brought out by women who boldly spoke out against the practice in an award-winning series Stop Acid Attacks by HT in 2013.
The victim of Friday's attack said she had complained to police about her harassment at the hands of Patil, a father of three and a family friend.
"I complained at the Ashoka Garden police station but was told the matter fell under the Bajaria police station's jurisdiction. Then I complained at the Bajaria police station but no action was taken," she said.
Saxena said a separate probe had been ordered into the alleged police inaction.
Mamta Sahu, 45, the victim's mother, said Patil, a married man, had good relations with her family but started sexually harassing her daughter a year back.
"After the death of my husband in 1997, he used to help me as my children were young and he had been a friend of my husband. Recently, he beat up my daughter at our house. We lodged a police complaint but no action was taken," she said.
Police sources confirmed that the victim had lodged a complaint at the Bajaria police station on May 17 and on May 20 Patil went to the gym where she worked and misbehaved with her.
Chief minister Shivraj Singh Chouhan, state home minister Babulal Gaur and health minister Narottam Mishra visited the hospital and assured the victim's family of help.
Chouhan also ordered a probe, saying the state government would bear the expenses of the victim's treatment. Two policemen have already been suspended for not acting on past complaints.

Read:

Pvt hospitals can't deny first-aid to acid attack victims: Govt

Two men on bike throw acid at lady doctor in Delhi
Close Story
Personalise your news feed. Follow trending topics