Communal tension in Sehore: 20 houses set afire after girl 'elopes' with youth
Updated on Jul 09, 2017 10:57 PM IST
A resident, requesting anonymity, alleged that the Rajput girl has eloped with the Muslim youth, but the family was taking out its anger on other Muslims in the village.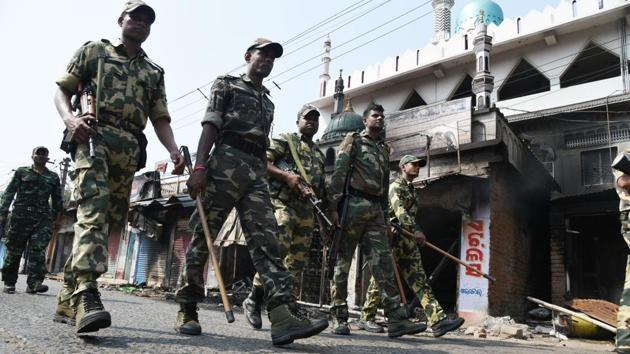 At least 20 houses of Muslims were set afire on Saturday night after a minor Rajput girl went missing in Sehore district of Madhya Pradesh.
A 16-year-old Rajput girl of Chhipaner village of Sehore went missing after her school on July 4. Later, villagers registered a complaint at the local police station alleging that a Muslim youth had kidnapped her, sparking communal tension in the village.
On Saturday evening, people of Hindu community allegedly attacked the houses and torched 20 houses in Chhipaner and neighbouring Narayanpur villages, police sources said.
While minor injuries were reported from victims, most of them fled their houses to save their lives, police said.
A heavy police force was deployed in the area after the incident.
A resident of the village, Akbar Khan said, "There was tension in the area for the past four days. They attacked our houses and set them on fire. We somehow managed to escape safely but we are scared of returning to our homes."
A resident, requesting anonymity, alleged that the girl has eloped with the youth, "but the family is making it a prestige issue and creating trouble for Muslim families residing in the area".
Superintendent of police, Sehore, Manish Kapuriya said the situation was under control now.
A case has been registered against 50 people under various sections of IPC and 12 of them have been identified by the police.
District collector Tarun Kumar Pithode visited the villages and announced compensation to the victims.