In these MP villages, Ravan is no demon king, but a healer and protector
Updated on Sep 30, 2017 02:51 PM IST
Mandsaur and Ravan village in Vidisha worship Ravan as a healer and protector, without whose blessings no festive or special occasion is complete.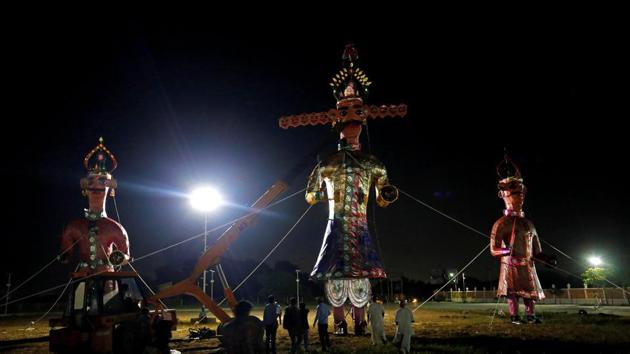 Dussehra is celebrated as the occasion when Hindu god Rama slays the ten-headed 'demon' king Ravan, who is widely seen as the chief villain in the Hindu epic Ramayana, that glorifies Rama.
But, two places in Madhya Pradesh deem Ravan their "healer" and "protector".
In Mandsaur, which is believed to be the hometown of Ravan's wife, people consider him as their "son-in-law".
As per a belief of the region, those afflicted with various ailments tie a red thread on the left leg of the 35-feet high statue of Ravan in the town's Khanpur area, believing it would cure them.
"Ravan is revered and worshipped here and people have faith that if they tie a thread around his leg here in Khanpur, they would be cured of ailments. People, especially those who are suffering from fevers, come here to get healed," says Dheerender Singh, resident.
On Saturday morning, people in Mandsaur, especially womenfolk and members of the Namdeo community, started thronging Khanpur to offer prayers before the statue of Ravan .
"People here have immense respect for Ravan and come to worship him, especially on Dussehra," says another resident, Mohini Bai.
And in Vidisha district's Ravan village, where his effigy is never burnt, he is worshipped as "the bestower of good luck and protector", without whose blessings no festive or special occasion is complete.
No marriage is solemnised without first sending a wedding card to Ravan at his temple here. Two-wheelers and other vehicles in this village have Jai Lankesh compulsorily written over them. They believe it prevents accidents.
This village, called Ravan, is located in the Nateran tehsil of Vidisha district, nearly 40 km from district headquarter, where for centuries, Ravan has been worshipped by Kanyakubja Brahmins, a Brahmin sub-sect, to which Ravan belonged.
Inside the Ravan temple, there is a big 10-feet idol of Ravan —in lying position. The local legend is that an unforeseen calamity would strike the village if anyone tries to put the idol in upright position.