Alia Bhatt can't stop sharing new romantic pics with Ranbir Kapoor from Brahmastra shoot
Ever since Alia Bhatt and Ranbir Kapoor started shooting Brahmastra in Bulgaria, Alia has been sharing non-stop photos of herself and her boyfriend together. And we don't blame her.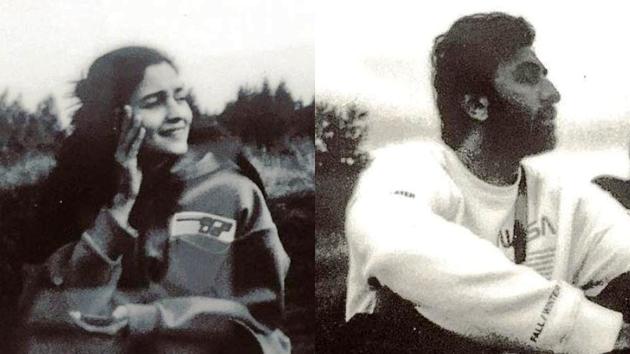 Published on Sep 17, 2018 04:12 PM IST
Hindustan Times |
HT Correspondent
Alia Bhatt and Ranbir Kapoor have been as busy as ever, shooting Brahmastra, their first film together, in Bulgaria. But in the midst of their extensive Brahmastra rehearsals and shoot, Alia has been sharing all the photos she can of herself and her boyfriend and giving a non-stop insider's peek at their stay in Bulgaria.
Alia shared a photo on Monday of her flashing her killer smile while gazing into the horizon. "So long sofia," Alia captioned the black-and-white 'plandid' snap. The Raazi actor shared another blurry greyscale 'plandid' (a portmanteau of planned and candid, basically posing looking anywhere but the camera) of Ranbir and their friend, Brahmastra director, Ayan Mukerji taking in their beautiful surroundings:
Alia Bhatt and Ranbir Kapoor have been shooting Brahmastra since the last few months and showing off their love with lots of PDA in as many photos together as possible. Alia has also shared many personal photos from the Brahmastra shoot on Instagram, a few of which have been taken by Ranbir.
On Sunday, Alia shared an affectionate photo on Instagram, in which Ranbir and director Ayan Mukerji lovingly embraced her. "The one with all the joy," the Raazi star captioned the below photo:
We can barely remember a time when Alia and Ranbir were not together, but in reality, it's been just over four months since the couple made their relationship official. Ranbir first confirmed the relationship in an interview to GQ in May.
Read more: Ranbir Kapoor, Alia Bhatt are inseparable in new Brahmastra pic
"It's really new right now, and I don't want to over speak. It needs time to breathe and it needs space. As an actor, as a person, Alia is – what's the right word? – flowing right now. When I see her work, when I see her act, even in life, what she gives is something that I'm aspiring to for myself. It's new for us, so let it cook a bit," he said.
In a recent interview with Hindustan Times, Ranbir also spoke about his feelings for Alia and said, "Honestly, I am not playing hide-and-seek. I am in a happy, positive and beautiful phase of my life. But you can talk about your personal life only to a degree. Otherwise, it becomes the forerunner of your life and your work takes a back seat. There is always excitement to know about someone's personal life. But you want to give the relationship respect so that people don't malign it in a gossipy way. It is something beautiful, sacred and really important to you, so you want to deal with it in a nice manner."
Follow @htshowbiz for more
Close Story
Personalise your news feed. Follow trending topics