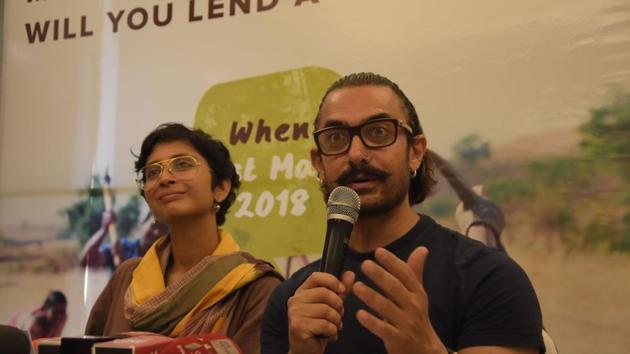 Alia Bhatt joins Aamir Khan in shramdaan, heads to a Maharashtra village with a shovel in her hand
As Alia Bhatt, Sai Tamhankar and several other celebs join Aamir Khan in offering shramdaan for Paani Foundation, the Dhoom 3 star explains the driving force behind the campaign.
UPDATED ON MAY 01, 2018 11:03 AM IST
Bollywood actor Aamir Khan not only took up the issue of Maharashtra drought in his TV show, Satyamev Jayate, he decided to do something about it. In 2016, he, along with the show's director Satyajit Bhatkal, started a campaign called Paani Foundation, aiming to help 90% of the drought affected areas in the state.
The movement has gathered momentum now, and the actor gives all the credit to the great idea and the director of his show, not his celebrity status. "The idea has to be something good, something that can work. This was Satyajit's idea. If the idea is not strong, then no matter how many celebrities push for it, it's not going to work. The idea is always the bigger thing. Only then can celebrities give it a push. It's not just me, a lot of celebrities from Marathi cinema have joined the movement," Aamir said.
Aamir Khan on Thugs Of Hindostan role: He can sell his mother
Aamir started shramdaan (voluntary labour) in 2016 on May 1 (Maharashtra Day and Labour Day), asking city dwellers and villagers to come to villages and help the rural population. In 2016, the pilot year of the campaign, about 1,000 people participated in shramdaan, and this year, more than one lakh people from cities and more than 3-4 lakh people from villages are expected to join hands for the cause.
Alia Bhatt announced her involvement in the shramdaan for this year and tweeted, "Tomorrow that is the 1st of May.. I will be at a village in Marathwada, doing shramadaan with a shovel in my hands. What's your plan? @paanifoundation @satyamevjayate @aamir_khan #PaaniFoundation."
Alia joined Aamir Khan, Sai Tamhankar and several other Marathi actors for the shramdaan Tuesday morning. Check out some of their pictures:
Aamir explains the plan for shramdaan: "When you sign up, you choose the taluka closest to you. When you reach the village, there will be a registration desk where you will be given a spot. The entire area is mapped out with chalk. For instance, if you are told to go to position 7A, there will be a rectangular drawing at that spot where you will dig. We kept 25 April until midnight as the deadline to register because we needed at least four to five days to plan everything."
Aamir knows that making Maharashtra drought-free is no easy task, but that doesn't deter him a bit."Initially, Satya and I were nervous. In my experience, the biggest obstacle you have is your own doubts. It is always your internal self which sometimes makes you feel 'ki ye nahi hoga'. When we surpassed the self doubt phase, we plunge in. We thought that even if we fail, we would like to give it a shot," he says.
(With inputs from Yashika Mathur)
Follow @htshowbiz for more

Close