Alia Bhatt on marrying boyfriend Ranbir Kapoor: 'It hasn't even crossed my mind'
Birthday girl Alia Bhatt says she wants to do an out-and-out comedy; adds marrying Ranbir Kapoor isn't a part of her plans right now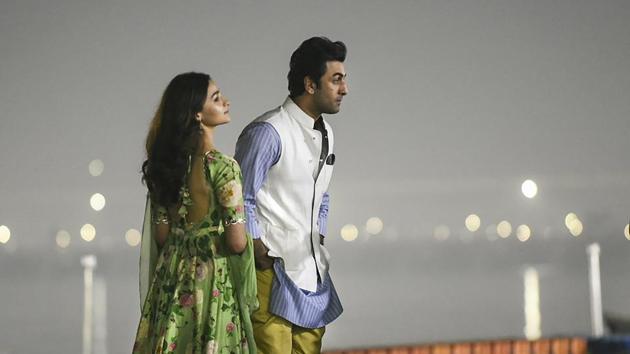 Updated on Mar 15, 2019 12:41 PM IST
Last year, she just had one release, Raazi. But Alia Bhatt, who has kicked off 2019 with the superhit Gully Boy, clearly has a packed year ahead with Kalank coming up followed by Brahmastra. Plus, she'll also start shooting for SS Rajamouli's next RRR and Sadak 2 that will be helmed by her father, film-maker Mahesh Bhatt.
But despite her choc-a-bloc schedule, Alia isn't looking for a breather. "I want to keep working forever. Now, for example, I am looking for a light film which is more of a comedy than a love story. In fact, I've always said that I really want to do an out-and-out comedy. I feel that part of my personality is ready to erupt now (laughs)," says the actor, who turns 26 today.
Well, Alia might be caught up on professional front, but her personal life never fails to make news. Of late, talks have been rife that she may get hitched [to boyfriend Ranbir Kapoor] this year. "Not at all," says the actor, adding: "I feel it's all unnecessary chatter. You have to understand that personal life is called 'personal' for a reason. In fact, that's why, not many speak up about their relationships. The minute you say anything, there are random pieces of news including my supposed marriage."
The Dear Zindagi (2016) actor says things [with regards to marriage talks] have "reached a stage where it's not just limited to media". "It has even reached my fans. So, sometimes, when I interact with them on social media, they also ask me when I am getting married. And I am like, 'why are you asking me this? Have I said anything? Have I given a feeler?' No," says Alia, adding that since it has been a "season of marriages", everyone expects that I might also do the same."
Also read: Deepika Padukone on her Madame Tussauds statue: My mom never imagined I would make it here
"But marriage is something that hasn't even crossed my mind. I am not averse to it. But it's not a part of my plan right now. I have a lot of work to do. It's not as if I won't work post marriage, whenever it happens. But right now, my focus is just on work. My priorities will probably shift in time. As of now, it hasn't," says Alia, whose "only companion right now" is her "world famous" cat, Edward.
"I am just obsessed with cats and animals in general. I feel very terrible going away from him constantly [when I travel]. But I have to work, and I don't think he cares (laughs). He does care for maybe five-and-a-half minutes and also sulks with me when I come back," she says.
To Rumi, with love!
That Alia loves cats is an open secret. But did you know that she is an avid admirer of Persian poet, Rumi? So much so that cushions at her plush Juhu home have Rumi's quotes printed on them. "I just love Rumi," she says, adding that she "totally" believes in a Rumi's quote which reads: 'You have to keep breaking your heart until it opens'. She explains "This is one of my most favourite quotes. There's something about letting someone feel sad, heartbroken or low. Most people will always tell me, 'oh, you must be happy'. But I feel you can't always be happy and it's important to feel the other side, too. I feel once your heart opens, there are so many possibilities for you. In fact, I really love Meryl Streep's line, 'take your broken heart and turn it into art'. I feel greatness comes with a heartbreak.
Follow @htshowbiz for more
Topics
Close Story