Bhagyashree's son Abhimanyu: People only recognised me when they saw me with mom
Updated on Aug 27, 2018 06:18 PM IST
Actor Bhagyashree's son Abhimanyu Dassani talks about why he didn't want to use his filmi connections to bag a film.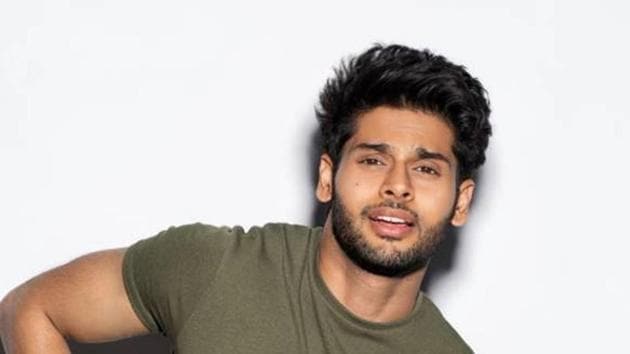 Hindustan Times |
, New Delhi
Rishabh Suri
He's the new star kid on the block, without any trappings. His parents may have been yesteryear actors — Bhagyashree and Himalaya, but Abhimanyu Dassani reveals that his upbringing was as normal as it can get.
"People recognised me in public only when they saw me with my mom. They would then come and ask questions. I wasn't even aware of it. I was brought up on a lot of principles by my parents. There was more pressure on me to be a good human being. Also, I don't have any friends from the film circle, and haven't been to any filmi parties," he says.
The 28-year-old is going to make his acting debut with the film Mard Ko Dard Nahi Hota, which is a quirky tale about a man who cannot feel any pain. He tells us how he landed the project.
"Someone sent me a Twitter screenshot, which said that there are auditions taking place for a martial arts film, and they need a boy aged 22-23 years. I decided to give the audition. This was during 2016 monsoons. I reached home at 9 in the night, and wasn't given a chance to audition. I went back the next day, but the same thing happened. On the third day, I got a call, and was shortlisted. I gave 25-30 auditions during this process. I bonded very well with tge director, and I got the film," recalls Abhimanyu.
It's very surprising that someone who hails from a film family went through the whole hog, despite having the required connections to bag a film. Why is that?
"When someone puts you on a pedestal, they can remove you from there, too. I was sure I wanted to make it on my own, because no matter how much you get in your life, what is it worth if it's not deserved?" he reasons.
Talking about his parent's reactions when he told them about the film, Abhimanyu reveals, "They were really surprised because I have been independent since the age of 16, and I was in the process of setting up businesses. I got an interest in acting and filmmaking, so I went to Lee Strasberg for method acting. My teacher and the director of the course was Lola Koel, who had been the classmate of Hollywood actor Al Pacino. I went up to her at the end of the course and asked her 'Should I choose this as a career, or let it remain a passion?' She said 'Abhi, If you don't give this an honest chance, I am going to be disappointed, because you bring something new to the table every time."
Interact with the author on Twitter/ @RishabhSuri02
Personalise your news feed. Follow trending topics