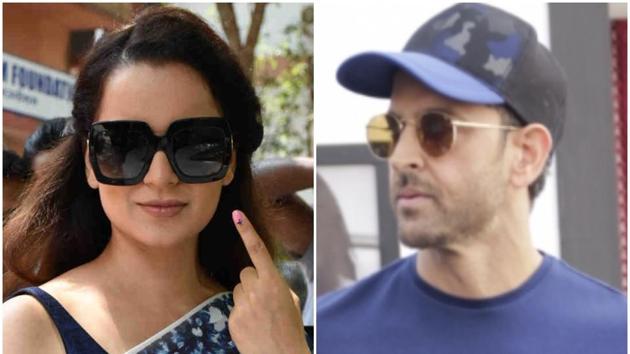 Hrithik Roshan delays Super 30 to avoid clash with Kangana Ranaut, says this is to avoid 'personal trauma, mental violence'
Actor Hrithik Roshan has broken his silence on Kangana Ranaut's Mental Hai Kya clashing with his Super 30. The actor said he has requested his producers to delay the film to avoid 'personal trauma and toxic mental violence this would cause.
UPDATED ON MAY 09, 2019 06:38 PM IST
Actor Hrithik Roshan has announced that he has requested the producers of his upcoming film Super 30 to move to a new release date, so as to avoid a box office clash with Kangana Ranaut's Mental Hai Kya, and save himself 'from the personal trauma and toxic mental violence this would cause'.
Producer Ekta Kapoor had previously moved the release date of her upcoming film, Mental Hai Kya, to July 26, where it would have directly clashed with Hrithik's Super 30. Ekta had said in her statement that the decision had been taken through mutual understanding between the producers of both films. Mental Hai Kya was earlier slated for a June 21 release.
In a statement shared on Twitter Thursday, Hrithik wrote, "So as to not allow my film to be desecrated by yet another media circus, I have decided to shift the release date of my film Super 30 in order to save myself from the personal trauma and toxic mental violence this would cause."
Kangana and Hrithik's personal feud goes back several years, when she called him a 'silly ex' in an interview, and they were subsequently involved in years of legal back and forth. Hrithik has denied that he was ever involved with her romantically, and Kangana has attacked him in public on several occasions.
Kangana had previously moved her historical epic Manikarnika: The Queen of Jhansi to January 26, which was also when Super 30 was supposed to release. But sexual harassment allegations against its director Vikas Bahl forced the film to be delayed. Post production was overseen by Anurag Kashyap, and the film will be released without a director's credit, after Bahl was fired from his duties.
"Despite the film being ready," Hrithik continued in his statement, "I have requested my producers to shift and announce the next suitable date as soon as possible. Over the past few years, to my utter dismay, I have been witness to a lot of us cheering and encouraging what was/is an open and blatant case of harassment. I must even now, wait patiently and silently for the collective consciousness of society to take cognizance of such matters in order to maintain our faith in civility of our society." He finished by saying, "This unrelenting helplessness must end."
Also read: Kangana Ranaut's sister Rangoli issues warning to Hrithik Roshan over Mental Hai Kya clash: 'Ab tu dekh, Jadoo'
Ekta in her statement had urged fans to not resort to any mud-slinging between the actors, as the decision to shift Mental Hai Kya's release date was hers alone. This didn't stop Kangana's sister Rangoli Chandel from issuing multiple threats to Hrithik on Twitter Wednesday. In her tweets, she accused him of conspiring against Mental Hai Kya through a negative PR campaign.
No new release date for Super 30 has been announced yet. The film is based on the life of Bihar mathematician Anand Kumar.
Follow @htshowbiz for more

Close