Karni Sena members among 5 held for vandalising artist's Padmavati rangoli
Updated on Oct 19, 2017 07:30 PM IST
The movie has run into controversy after Rajput community group Karni Sena raised objections over depictions in the movie.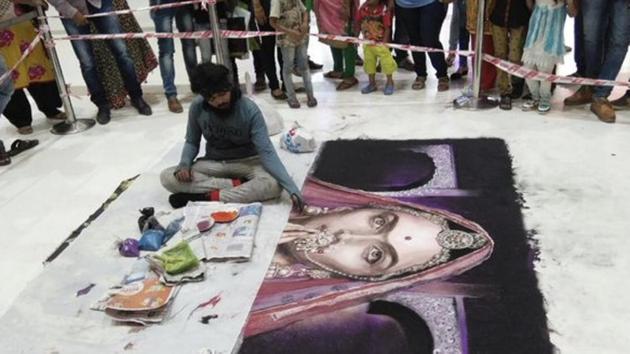 Press Trust of India, Surat |
Press Trust of India
Five persons, including four members of outfit Karni Sena and one from Vishwa Hindu Parishad (VHP), were arrested on Thursday for allegedly vandalising a rangoli inspired by an upcoming film "Padmavati" at a mall here, the police said.
The police had on October 16 registered an FIR against a group of people for vandalising a rangoli created by a local artist (an artwork created on floor using colourful vermilion) at Rahul Raj Mall in Umra area on Sunday last.
Based on a video, which shows vandals shouting "Jai Shri Ram" as they damaged the art work, police arrested them.
Talking to reporters, Surat Commissioner of Police Satish Sharma also urged mall owners to come forward to lodge a case if such vandalism takes place.
"We have arrested five persons, four of them belonging to outfit Karni Sena and one from the VHP. More persons are likely to be arrested as the video footage recovered by us shows 8-10 persons involved in the activity," Sharma said.
"I also want to make it clear that the police will deal with strictness against any such action. Freedom of expression is everyone's right in a democracy, but vandalism will not be allowed," he said.
The arrested persons have been identified as Vikramsinh Sekhawat, Shambhusinh Rathod, Narendra Chaudhary, Shailendra Rajput and Sanjaysinh Gohil, said the official.
They have been arrested under various sections of Indian Penal Code including 141, 149 (unlawful assembly), 451 (trespassing) and 427 (mischief causing damage).
The rangoli showed the film's actress Deepika Padukone in her titular role as Padmavati in the Sanjay Leela Bhansali directed movie.
Raising questions of freedom of expression, Padukone had on Wednesday said she was heartbroken by the attack on a rangoli inspired by her upcoming film "Padmavati" and drew Union Information and Broadcasting Minister Smriti Irani's attention.
"Absolutely heart breaking to see the recent attack on artist Karan and his artwork! Disgusting and appalling to say the least!" she tweeted along with a photograph of the rangoli.
The movie ran into controversy after a Rajput community group Karni Sena raised objections over depictions in the movie, claiming that history was being distorted.
Earlier this year, Bhansali was attacked by its members , during the film's shooting in Rajasthan.
Last month, members of the Karni Sena burnt posters of the film after the first look of the main characters -- Padmavati (Padukone), Maharawal Ratan Singh (Shahid Kapoor) and Allaudin Khilji (Ranveer Singh) -- was released.
They also threatened to oppose the screening of the movie in theatres if the facts were distorted. "Padmavati" is slated to release on December 1.
Personalise your news feed. Follow trending topics