Mahira Khan on viral photos with Ranbir Kapoor: It is my personal life
Updated on Oct 18, 2017 01:55 PM IST
Mahira Khan has reacted to the controversy with Ranbir Kapoor when she was trolled for smoking with him in New York.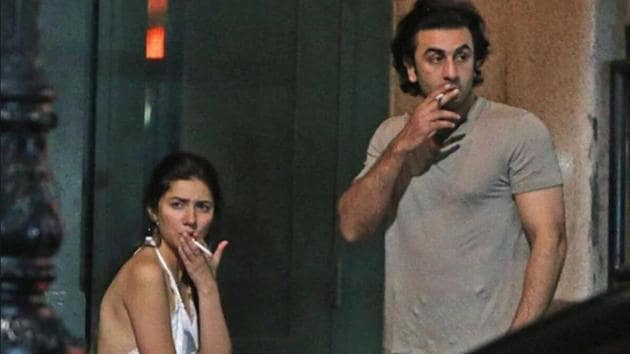 Pakistani actor Mahira Khan has finally broken her silence over her pictures with Ranbir Kapoor that went viral a few weeks ago. The two were spotted taking a smoke break outside a hotel in New York, which led to their fans wondering if anything was cooking between the two.
The actor was speaking at the trailer launch of her upcoming film, Verna, on Tuesday on a television show when she was asked about the photos. "I am a very careful person otherwise. People ask me that I do not do this in films, I say I do not want to. Why should I do anything to show the world?" she said.
About meeting Ranbir she said, "It is my personal life and it is very normal for a boy and girl to hang out." However, she said she has learned from the incident. "Nowadays, (the) media is not only present at events but everywhere. So, I have learnt from it (the incident)," she said.
Not just being seen with Ranbir, Mahira was criticised online for wearing a backless dress and smoking. Her fans came to her support and called the trolls out for not judging Ranbir the same way as they were judging Mahira.
In a statement published by NDTV, Ranbir has said, "I've gotten to know Mahira in a personal capacity over the last few months. She is somebody who I admire and respect, for her achievements and even more for the person she is. It is very unfair the way she is being judged and spoken about. What is also sad is the inequality in judgment just because she is a woman. I request you to stop the negativity and move on with your beautiful God-gifted lives. Peace and love. PS: Both smoking and hate are injurious to health."
Mahira made her Bollywood debut in 2017 with Shah Rukh Khan's Raees. She has also worked on television soaps like Humsafar with Fawad Khan and is a single mother to a four-year-old son, Azlaan.
Follow @htshowbiz for more