Mother's Day: Kartik Aaryan says his mom googles his name every day, adds his girlfriends on Facebook
Updated on May 13, 2018 12:00 PM IST
On Mother's Day today, Sonu ke Titu Ki Sweety actor Kartik Aaryan talks to us about his tech savvy mom, how she reacts to his films and the nickname given by her that he strongly disapproves of.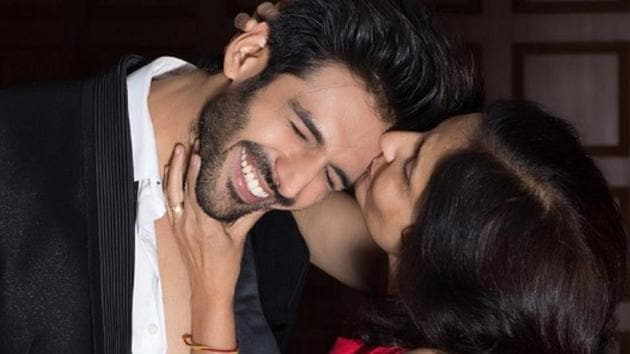 Hindustan Times |
, New Delhi
Monika Rawal Kukreja
Actor Kartik Aaryan might be a heartthrob among girls for the characters he has portrayed onscreen in films such as Pyaar Ka Punchnama (part 1 & 2) and Sonu Ke Titu Ki Sweety, but back home, he is the doting son who can't thank his mother, Mala Tiwari, enough for "inculcating discipline" in his life and helping him "stay grounded". On Mother's Day, Kartik tells us more about his tech savvy mom, how she reacts to his films and the nickname given by her that he strongly disapproves of.
What's your bond with your mom like?
She is my best friend — the strongest woman I've ever known in my life. She's supportive, independent and from my childhood days till today, I've seen her struggles and I think that has made her stronger. The positive attitude she has towards everything even if it's not working, I've adopted the same. I am a reflection of my mother.
Has she been a strict parents or the lenient one?
She was very strict. While growing up, I used to sleep at 8pm and get up at 4am to study. And this was until I was in class 10, as she wanted me to score big in board exams. But I'd secretly watch wrestling and cricket on TV when she wasn't around and she used to catch me and tell me that I need to study first. Now, I realise that it actually helped me grow and inculcated discipline in me.
Any nicknames that your mom has given you…
She calls me Koki and I hate it. I always ask her the sense behind this name and she'd say she just feels like calling me Koki looking at my face, so, I never knew how this name came up.
Would you always confide in her — even about your crushes and the girlfriends?
She knows everything about my life — not just career but even my personal life. Whichever girls I was friends with or dated, she knows them all. She'd add them on Facebook and then starts chatting with them (laughs). Woh sab social media platforms par hain, unhe bahut shauk hai. She is very informed that way and she has learned it from me.
Does she get excited whenever your new films release?
She goes to theatres to watch my films. She cries seeing an emotional scene and if something bad is happening to me onscreen, she takes it to heart. And yeah, she gets very happy and enjoys whenever there is a mom conversation happening in a film. She has loved all my roles and by far, Sonu from SKTKS has been her favourite.
Is she the most honest critic of your work?
Since I am very choosy in terms of my films, she's the one always telling me and she's after my life to do more films. She has suddenly taken interest in my career. Even if she doesn't know about something and doesn't understand the logic, she'd still give me advice. She'd, for instance, tell me, why are you not doing this film and that film also!
Has she ever pressured you to get married after watching you in all these romantic films?
She's very chilled out that way and takes it by the day. She has never forced anything on me. As for shaadi, she tells me 'jab tera mann hoga, jab koi achhi ladki milegi aur jo tujhe sahi lage, ussi se shaadi karna'.
How does your mom react to whatever gets written about you in the newspapers?
I call her every day; rather she makes it a point to talk to me daily. And her point of view changes according to what's written about me on that particular day. She is watching everything through social media and googling my name every single day. So, before or after films, being a part of a hit or a flop, I've been the same because of her. She's the one who keeps me grounded.
Interact with Monika Rawal Kukreja at Twitter/@monikarawal
Personalise your news feed. Follow trending topics