Nawazuddin Siddiqui: I got my first job as a security guard in a Noida toy factory
Aug 19, 2017 09:43 PM IST
While promoting his upcoming film, Babumoshai Bandookbaaz in Noida, Nawazuddin Siddiqui said that it was in Noida that he got his first job - as a security guard at a toy factory.
It is common knowledge among Bollywood fans that cine star Nawazuddin Siddiqui has risen from a small town in Western UP, struggling in Delhi and Mumbai, to finally become one of the most sought after actors in India.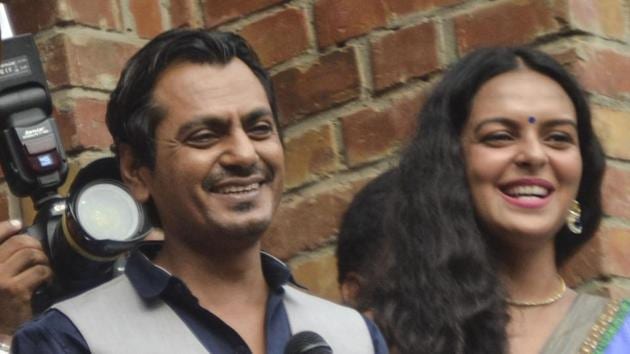 However, not many know that Siddiqui struggled working as a security guard for a toy factory in Noida.
Diving back in nostalgia, Siddiqui revealed at an event in Greater Noida on Friday, "Noida was where I got my first job as a security guard posted outside a toy factory. I had come from Muzaffarnagar before 1993."
Siddiqui was present at Sharda University in Greater Noida to promote his upcoming film Babumoshai Bandookbaaz. He was accompanied by starlets Bidita Bag and Shraddha Das to the university's main campus where he welcomed with loud cheers from students.
Trying to remember his past, Siddiqui humbly accepted that he wasn't very keen on surviving his first job.
"The owner of the toy factory on multiple occasions had caught me dozing off or relaxing outside the factory gate and reprimanded me for it. Soon, I left the job," said Siddiqui.
He remembered Noida in bits and pieces, claiming that city had not seen any high rise societies or malls back then.
"Back then in my time, Noida was quite deserted. There were no malls or high rise societies. Only factories were setting up. I will always remember this city as the place where I landed up with my first job," said Siddiqui.
Siddiqui belongs to Budhana, a small town in Muzaffarnagar, West UP, where he enacted in several Ram Leela plays and later joined the National School of Drama in Delhi. In Mumbai, he had to face rejection until 2012, when he nabbed a major role in Gangs of Wasseypur. Today, he is confident that the film industry is more open to youngsters hailing from small towns.
"There is no dearth of opportunity if one has the talent and dedication. There will be scores of opportunity waiting for you if you have the ability to grasp it."
Siddiqui recently posted a picture of his son dressed as Lord Krishna on the occasion of Janmashtmi. Last year, he faced protest from political leaders when he wished his desire to play a role in Ram Leela in his ancestral village. Reiterating the long history of secular culture and tradition of western UP, he says, "I have grown up in an environment where we used to celebrate all festivals together. I had enacted in various Ram Leela shows. That is why I want my son to bear same qualities."
Follow @htshowbiz for more