NEW SONG: Preity Zinta frolicking in Ishkq in Paris
Updated on Aug 30, 2012 06:12 PM IST
Preity Zinta's back again. And she's certainly busy merry-making. In the latest teaser from her upcoming film Ishkq In Paris, the actress proves 'Girls just wanna have fun'! Take a look. VIDEO INSIDE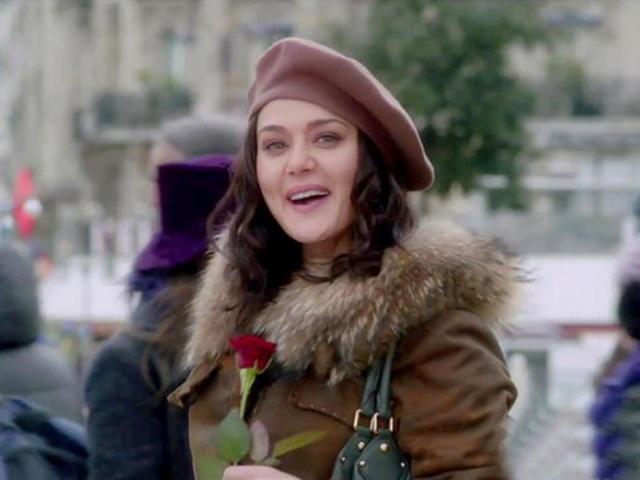 She's high, she's happy and she's certainly happy-high. Preity Zinta's back again!
In the latest teaser from her upcoming film Ishkq In Paris, the actress proves 'Girls just wanna have fun'!
The disco beats and vibrant setting give the new song, It's All About Tonight, a catchy and colourful feel. But the USP of the song is the French lyrics interspersed with Sunidhi Chauhan's vocals.
And for someone, who's making her Bollywood comeback at 37, Preity Zinta merges in rather well! The short 'n' wet hair look is suiting the lady, no doubt.
However, we've got to admit 'the-young-girl-all-out-to-party-in-another-country' is a bit done-to-death. In fact, even the bubbly Preity Zinta declaring It's The Time To Disco is all too familiar.
The soundtrack has been composed by musical duo Sajid-Wajid and features Rhehan Malliek in it as well. The film is scheduled to release on October 5.
Watch the song


Preity's film shot on top of the Eiffel Tower
Actor Preity Zinta's film, Ishkq in Paris, includes a scene that was shot on top of the Eiffel Tower, and that too, on a day that recorded the lowest temperature that Europe has seen in the past 65 years. As a result, Zinta had to brave the cold in designer couture minus any kind of winter wear and could not reschedule it, given that the locations is one of the most expensive places to shoot at.
FULL STORY
TRAILER: 'Bubbly' Preity Zinta back with Ishkq in Paris


One look at Ishkq in Paris trailer and you can easily forget that Preity Zinta is making her comeback after four years. Seems she was always there. The hiatus has neither altered her exuberance nor her screen presence.Preity shares an interesting chemistry with Rhehan Malliek.
TRAILER HERE
NEW POSTERS: Preity Zinta back with Ishkq in Paris
Preity Zinta's comeback film Ishkq In Paris, which is her home production also, is expected to release on October 5.
While the first poster of Preity Zinta's Ishkq in Paris was sans faces, the new posters of the film show Preity Zinta with television actor Gaurav Channa.
The actress who is making a comeback after around 4 years looks fresh. Preity was last seen in the 2008 film Heroes.POSTERS INSIDE

Shekhar Kapur to do cameo in Ishkq In Paris
Director Shekhar Kapoor will be making a special appearance in good friend Preity Zinta's first home production Ishkq In Paris. He plays the role of French actress Isabelle Adjani's husband in the film.
Shekhar tweeted, "Had d pleasure of playing Isabelle Adjani's husband. Even for 1 day it was a pleasure as I have been her ardent fan forever." GUEST ROLE

Preity signs two more films after Ishkq in Paris
Preity Zinta, who is back to concentrating on films after a few years' break, has signed two more films after Ishqk In Paris. "I have signed two more films, but I can't talk about them right now. They will be announced soon," said the 37-year-old actress. Buzz was that director Neeraj Pathak was waiting to sign her for his new film Bhaiyyaji Superhit. PREITY ON A ROLL
Personalise your news feed. Follow trending topics