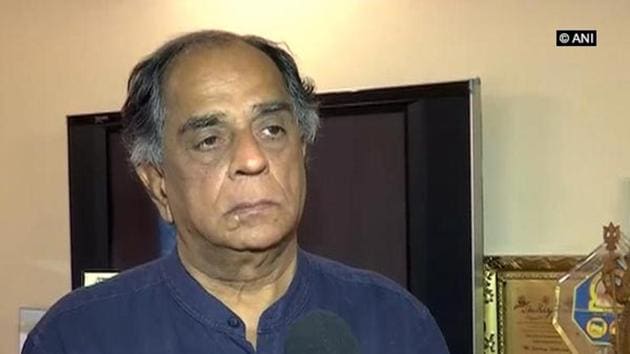 Pahlaj Nihalani moves Bombay HC against CBFC for ordering 20 cuts in his film Rangeela Raja
Former CBFC chief Pahlaj Nihalani's film Rangeela Raja has been ordered 20 cuts by the Central Board of Film Certification. He says his film has no vulgarity.
UPDATED ON NOV 05, 2018 04:40 PM IST
Former Central Board of Film Certification (CBFC) chief Pahlaj Nihalani on Monday moved Bombay High Court against CBFC for suggesting approximately 20 cuts in his upcoming production Rangeela Raja. During his tenure as the board chief, Nihalani was himself notorious for compelling film makers to edit, mute and shorten dialogues and scenes which he found unfit for universal viewing. He was removed from his position in August, 2017.
"This is nothing but personal vendetta. When I was the chairperson (at the CBFC) I left a lot of people angry and upset with me. Now when my film has been submitted for censoring, they are taking out their frustrations on me. But I won't go down without a fight," Nihalani told IANS.
He also accused current CBFC chief Prasoon Joshi of being biased. "Everybody knows about Prasoon Joshi's enduring friendship with Aamir Khan. No one is surprised that Thugs of Hindostan (starring Aamir Khan) was given an all-clear censor certification out of turn, while my film Rangeela Raja which was submitted well in time 60 days ahead of release, has been slapped with multiple cuts which I am not taking. No sir," he said.
"There is no vulgarity, no double meaning dialogues. Still I've been asked to delete a massive number of dialogues and scenes. In one sequence my heroine asks my hero what he'd like as guru dakshina. He says Eklavya cut his thumb and gave it to his guru, to which she tells the hero he can cut her lips. There is no kiss. Only a suggestion of a kiss. Still I've been asked to cut out this harmless playful scene. Why? Movies like Anurag Kashyap's Manmarziyaan are filled with kissing and lovemaking scenes and yet passed with a 'UA," he added.
With Rangeela Raja, Nihalani is re-uniting with actor Govinda after a period of 25 years. They have earlier worked together in films like Ilzaam, Shola Aur Shabnam and Aankhen.
Govinda's comeback film, Rangeela Raja also stars Shakti Kapoor, Digangana Suryavanshi, Mishika Chourasia, and Anupama Agnihotri. It is scheduled to be released on November 16.
Follow @htshowbiz for more
Close