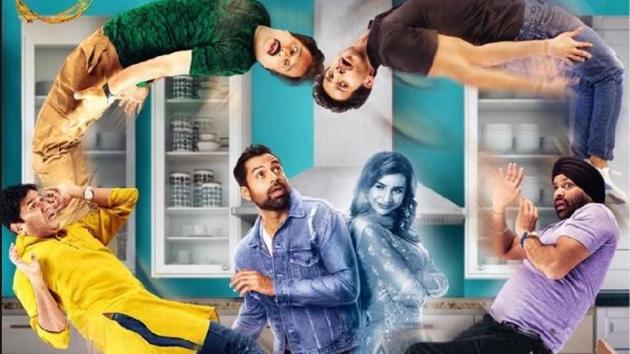 Patralekha wants Abhay Deol to buy a house in Delhi and that's not a bad idea
After Happy Bhaag Jayegi, Abhay Deol is returning to comic space with Nanu Ki Jaanu. Directed by Faraz Haider, the film also features Patralekha in the lead role.
UPDATED ON APR 19, 2018 08:29 AM IST
With films like DevD and Oye Lucky, Lucky Oye, Abhay Deol made a space for himself in Bollywood as the thinking man's actor. Lately, projects such as Happy Bhaag Jayegi and now, Nanu Ki Jaanu, he is trying to win the comic space as well.
Abhay Deol explains his role, "I am playing Nanu, who is basically a criminal. He takes over people's homes, makes them his own and then sells them to other people for more money. And then he is haunted by a ghost and the suave criminal turns into a nervous wreck of a man."
Talking about his character's modus operandi of taking over other's houses, Abhay says, "I believe that happens in Delhi a lot. Ironically, this is what the family in my other film, The Field, does. I play the policeman who is expected to bring this mafia family down."
Watch: Interview with the team of Nanu Ki Jaanu
Nanu Ki Jaanu takes a cue from 2014's Tamil film Pissasu, but Abhay says "it's more of an adaption than a remake." Faraz Haider, the director of Nanu Ki Jaanu, chips in at this point and says, "Pissasu is more of an emotional drama while Nanu Ki Jaanu is horror-comedy."
Nanu Ki Jaanu brings Abhay Deol to a familiar zone and he says, "I am coming back to Delhi in June for my next film." This is film's leading lady, Patralekha's turn to add, "I think you should buy a house in Delhi."
She continues, "There are only certain amount of films that come my way and I pick out of them. I have already done drama, and I wanted to do a comedy. Also, horror-comedy is very rare in our country."
Read: Mouni Roy's role is not bigger than Sonakshi Sinha in Dabangg 3
Is Abhay trying to establish himself outside the 'serious actor zone'? "It may seem like that because of the films I am doing, but the truth is you have no control over what comes out. There is no deliberate effort on my part to go to comedy. The only effort I am doing is to act in more non-formula films," says Abhay.
Abhay then teases his next project, "I have JL50 which is a science fiction. That will find a much difficult time in distribution. When I was running around in the industry narrating the idea of DevD, nobody wanted to make it because it was too arty and after release they wanted to make the same film again."
Nanu Ki Jaanu is scheduled to hit the screens on April 20, 2018.
Interact with Rohit Vats at Twitter/@nawabjha

Close