Priyanka Chopra responds to The Cut article like a boss lady, Sophie Turner, Joe Jonas react sharply
Priyanka Chopra, Sophie Turner and Joe Jonas have responded to 'global scam artist' comment made in The Cut article (now removed). Read their reactions here.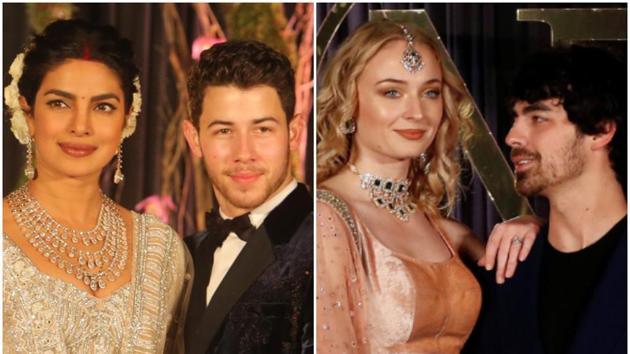 Updated on Dec 06, 2018 10:21 AM IST
Priyanka Chopra and Nick Jonas got married on December 1 in Jodhpur's Umaid Bhawan. The wedding, loved by millions of their fans, has also garnered sharp responses from few for being 'brand obsessed'. However, a recent article in New York Times' The Cut (now deleted), has drawn widespread condemnation for its take on the Priyanka-Nick union.
Priyanka has responded to the article saying she did not want to react to such "random things". Speaking to Hindustan Times, she said, "I don't even want to react or comment. It's not even in my stratosphere. I'm in a happy place at this moment. These kind of random things can't disturb it."
However, among those who have joined the chorus against the said article are her brother-in-law and sister-in-law to be, Joe Jonas and Game of Thrones star, Sophie Turner.
Taking to Twitter, Joe wrote: "This is disgusting. @TheCut should be ashamed to have someone write such evil words. What Nick & Pri have is Beautiful Love. Thank u, Next."
Following in the same vein, Sophie too wrote: "This is wildly inappropriate and totally disgusting. Very disappointed that The Cut would give anyone a platform to spew such bulls--t."
The TheCut article saw poorly of the said union: it called Priyanka a "global scam artist" whose PR machinery was looking out for a romance for her. It said that while Nick was only looking out for "a fling" with Hollywood's latest "It woman", the American singer was looking straight at a "life sentence".
"All Nick wanted was a possible fling with Hollywood's latest It Woman, but instead he wound up staring straight at a life sentence with a global scam artist."
The article has been at the receiving end of a lot of online flak: Twitter descended on it in rage called it, among other things, "sexist" and "racist" to "judgmental". The article has since been taken down. An editor's note on the page says that the article has been removed as it did not meet up to their standards. They also apologized for it.
A note on The Cut read: "Last night, the Cut published a post about Nick Jonas and Priyanka Chopra's relationship that shouldn't have gone up. We've received dozens of messages from readers expressing their anger. We want you to know that we hear you and we're sorry. The whole piece missed the mark. There is no good explanation for this other than human error and poor judgement. This was a mistake, and we apologize to our readers and to Priyanka and Nick."
Follow @htshowbiz for more
Close Story
Personalise your news feed. Follow trending topics