Ranbir Kapoor, Alia Bhatt have a late-night dinner date at her home, see pics
Ranbir Kapoor and Alia Bhatt are taking their relationship to the next level. They were spotted enjoying dinner at her home, along with her father, Mahesh Bhatt. See pics.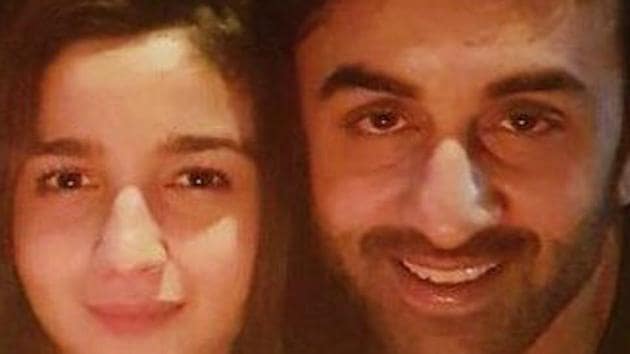 Updated on Jul 07, 2018 09:08 AM IST
Bollywood's latest couple, stars Ranbir Kapoor and Alia Bhatt were spotted having a late-night dinner at her home. Also present was Alia's father, director and producer Mahesh Bhatt. The pictures have been taken from a distance, so they aren't the clearest (you won't see what they're having) but we can see the Brahmastra co-stars enjoying each other's company.
The window shades weren't drawn, which gave the paparazzi an unbroken shot of the two, as they chilled and made conversation. And we all know how much Mahesh Bhatt enjoys doing that. In one of the pictures, it almost seems as if Alia has spotted the photographers on the street below, but the window shades remained open.
In May, unlike several of his colleagues, Ranbir admitted that he was indeed dating Alia. Talking to GQ in an interview, he said in, "It's really new right now, and I don't want to over speak. It needs time to breathe and it needs space. As an actor, as a person, Alia is – what's the right word? – flowing right now. When I see her work, when I see her act, even in life, what she gives is something that I'm aspiring to for myself. It's new for us, so let it cook a bit."
This was the first time Alia and Ranbir had accepted their relationship. In an interview to NDTV, Ranbir said that he has a 'boy crush on her,' and complimented Alia on her latest film, Raazi. A few weeks ago, Alia didn't hesitate when she was asked by India Today who her biggest crush of all time is. "Ranbir Kapoor,' came her swift reply.
Alia recently complimented Ranbir on his performance in the Sanjay Dutt biopic, Sanju. She said, "I really liked it. It is a fantastic, fabulous and an outstanding film. I think in my top 10 best film list, Sanju is high up there. Ranbir is outstanding in it. Vicky Kaushal and Paresh ji (Rawal) also did a fantastic job. Everyone including Anushka (Sharma) and Sonam (Kapoor) did really good job. It's a full package."
Alia and Ranbir are both coming off two of the biggest hits of their lives. They will be seen together in director Ayan Mukerji's Brahmastra, due out in 2019. The film will also star Amitabh Bachchan. Alia was previously dating Sidharth Malhotra while Ranbir was involved with Katrina Kaif.
Follow @htshowbiz for more
Close Story