Remembering Sridevi: When Hollywood star Orlando Bloom was bowled over by the Chandni actor
Back in 2015, Hollywood Star Orlando Bloom was left awestruck when he was introduced to Sridevi as "Indian actor who has done over 300 films."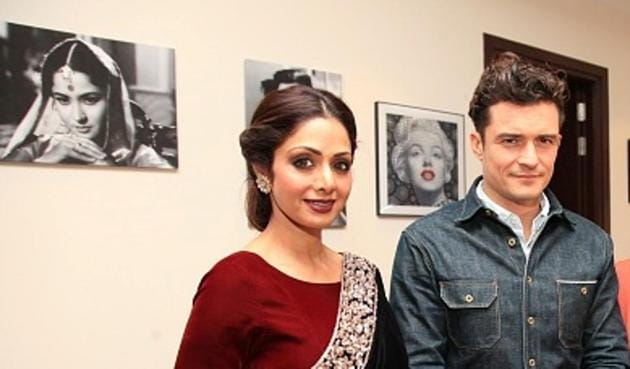 Updated on Feb 26, 2018 03:27 PM IST
Veteran actor Sridevi, 54, breathed her last on February 24 in Dubai, and ever since the news broke, condolence messages and tributes have been pouring in from her fans and friends in the film industry.
Looking at her career spanning four decades, it was not just Bollywood or the fans of the Indian film industry, who were bowled over by the artist that Sridevi was. In Hollywood as well, people marvelled at her brilliance, and Orlando Bloom was surprised [with a look which said he was surprised beyond his wildest dreams] when he was told that Sridevi has done over 300 films.
This was in December 2015, when Bloom, along with Indian producer Sheetal Talwar, had visited India to promote tourism in Uttar Pradesh and he met Sridevi at politician Amar Singh's residence during a private dinner party hosted by him.
The small get together of celebrities included producer Boney Kapoor and his wife, actor Sridevi among others. "Have you really done 300 films ? How have you managed to do that," was Orlando Bloom's way of saying 'hello' to Sridevi when he was introduced to her by Amar Singh. A humble Sridevi merely smiled and nodded, confirming the number.
"How much time did you take to make each film?" Bloom asked her with an almost childlike curiosity on his face. Sridevi smiled and replied, "It depends from film to film." At the time of the conversation between the two, Orlando Bloom had done 28 films.
Interact with the author on Twitter/@sammysamarth
Close Story