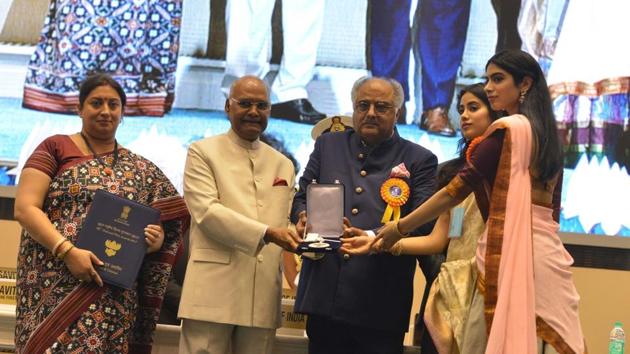 Resul Pookutty, Rahul Dholakia express anger over National Film Awards row
At least 50 film personalities skipped the National Film Award ceremony and 68 signed a letter stating their disappointment over the President of India not handing awards to most of the winners.
UPDATED ON MAY 04, 2018 02:15 PM IST
As controversy and chaos over President Ram Nath Kovind not presenting all 137 awards at the National Film Awards intensified on Thursday, at least 50 film personalities did not attend the event in Delhi, according to the Ministry of Information and Broadcasting.
Different media reports, however, claim that as many as 60 of the 80 film personalities who signed a petition calling for a boycott of National Film Awards did not turn up for the event.
Controversy clouds 65th National Film Awards as President limits presence at presentation ceremony
Musician Resul Pookutty expressed his anger at the "classist attitude" and wrote in a long Facebook post, "This is the sentiments of an ordinary technician working in the Indian Film Industry.The Hon.President mentioned in His speech at the National Award Ceremony that "it is indeed a special moment for each of the 125 Award winners"! I do not know if it was special for all of them but I'm sure it was special for some of them! Hon.President also mentioned that there are 200,000 people directly and many more indirectly working in the film industry. Yes that is true... most of the people who abstained from the ceremony yesterday consists of the majority of that 200,000. They are the work force... they work behind the camera, they carry heavy lights, they carry heavy equipments, they swing booms, they push trolleys, they work more than 18 hours a day!. It is their sweat that earns every state Govt it's Entertainment Tax- UP charges the highest 60% in addition to the GST @18%, though we are strictly not a service Industry. So in effect we became the highest taxed industry!"
He further wrote, "When your good office had given time to hand over the National Award to only 11 members out of the 125, it is those smallest people in the whole spectrum got sidelined! Their aspirations and ambition got crushed! Hon.President mentioned in the speech India based Films been successful so foreign studios are coming in, we must encourage every opportunity to celebrate our values. But the real people who took India's name in the International map of world cinema are those technical force. Starting with V.Santharam who got recognized for Best Sound at Cannes in the early 50's, or Bhanu Athaiya who brought the first competitive Oscar to India or Santhosh Sivan who got recognized by the American Society Of Cinematographers or Resul Pookutty who got Asia's first technical Oscar for Sound and many more such exemplary examples exist in our filmic conscience."
Filmmaker Rahul Dholakia tweeted his reaction to the controversy and said, "one of the reason the National Film Awards are prestigious is because they are handed by the @rashtrapatibhvn -not a minister. This is a moment of a lifetime for Film makers ; please don't deprive them of their merit / glory #NationalFilmAwards @smritiirani @Ra_THORe" Dholakia is best know for his film on Gujarat riots, Parzania and he recently made Shah Rukh Khan-starrer Raees.
Director Ashwini Choudhary, who is best known for Dhoop (2003), also shared his anger in a series of tweets: "I think it is happening for the first time in 65 years that awardees of #NationalFilmAwards wont be felicitated by @rashtrapatibhvn. Only 11 out of 141 will get awards from the President. This is how the best of Indian Cinema is being treated.#Sad. The Indian Film Industry should come out in open and take a stand against the humilation of National Film Awardees who are going to skip the award ceremony today. Dark day in the history of #NationalFilmAwards. Just heard on a News Channel that #RashtrapatiBhawan has conveyed that The President can't attend any event for more than an hour. So 26January parade this year will be a one hour event #Justasking."
He further wrote, "And for gods sake stop calling it an "Event" . National Film Awards is a " Ceremony " to celebrate and honour the best of Indian Cinema. Ek salaah du muft ki. Agli baar se awards courier kar dena.Paisa aur waqt dono bachenge. The 11 chosen ones by madam @smritiirani to be awarded by Honourable @rashtrapatibhvn should show some spine and stand by the majority of awardees who are skipping the ceremony #NationalAwards2018 #Shame"
Who skipped the event?
South film personalities led the boycott and quite a few of them left the national capital before the ceremony began. Filmmakers Fahadh Faasil and Nazriya Nazim left for Bengaluru Thursday evening. Among those who skipped the ceremony were Praveen Morchhale, producer of Thondimuthalum Driksakshiyum Sandeep Senan and Taker Off star Parvathy, apart from Fahadh Faasil and Nazriya Nazim
Celebs who registered protest and also attended the National Film Awards
However, Yesudas, Jayaraj and others signed the petition but did not support the boycott of National Film Awards. Several winners showed up despite their protest and received their award from the ministers. Among them was Newton producer Manish Mundra, the winner of best Hindi film, who had tweeted: "The whole inherent and intrinsic value of #NationalFilmAwards is due to the fact that it's being given away by (the President). Otherwise it's just one among the other many film awards mushrooming across the country! #NationalFilmAwards." The tweet was later deleted.
What the letter, signed by the protesters, says
The letter addressing the additional director general of the Directorate of Film Festivals (DIFF) Chaitanya Prasad, the office of the President of India and the Information and Broadcast Ministry, read, "We write to you collectively as filmmakers and artists from various states across our country. We are recipients of the 65th National Film Awards, an honour that we consider as the most eminent token of appreciation and encouragement for our work. We have been invited for this esteemed ceremony with a letter stating that the awards will be presented to us by the Hon'ble President of India. We along with our family and friends have been eagerly looking forward to this prestigious moment that merits our tireless work and dedication towards our dreams."
"It is only a day before the ceremony that we have learnt through Mr Chaitanya Prasad that a large segment of the awards will not be presented by the Hon'ble President of India. It feels like a breach of trust when an institution/ceremony that abides by extreme protocol fails to inform us of such a vital aspect of the ceremony with a prior notice. It seems unfortunate that 65 years of tradition are being overturned in a jiffy. We as filmmakers and artists put in all that we have and tenaciously stick to our dreams in a field of work where appreciation does not come easy. We are disheartened to know that we will be deprived of the honour of this appreciation of a once in a lifetime moment of pride and glory that the National Film Awards had promised us. The National Film Awards unlike other award ceremony has been considered as the most pristine and unbiased. We request that the dignity and eminence of this award is maintained and that there is no display of hierarchy at the event. We are disappointed to know that the Hon'ble President will be presenting the award to just 11 awardees and not the remaining of about 120 of us. We would like to bring to your notice that we discussed this matter with the Hon'ble I&B Minister last evening and were promised a reply but haven't heard back from anybody. We are left with no choice but to express our disappointment and convey to you that at the end of the day we feel dejected rather than honoured for our work. In the circumstance of not receiving a response for our grievance we are left with no option but to be absent for the ceremony. We do not intend to boycott the award but are not attending the ceremony to convey our discontent and are awaiting a more just solution."
Actor Sridevi posthumously won the Best Actress Award for her role in Hindi film Mom while Bengali actor Riddhi Sen got the Best Actor award for Nagar Kirtan. The Best Feature Film award went to Assamese film Village Rockstars. Actor Vinod Khanna was awarded the Dadasaheb Phalke Award, received by his son Akshaye and wife Kavita.
A Rashtrapati Bhavan spokesperson said the organisers had been informed weeks in advance that the President would spend only up to an hour at the function during which time he would give out some of the awards and also have a group photograph taken with all the awardees.
Till the previous year, the awards were presented by the President in the presence of the minister for information and broadcasting every year.
Follow @htshowbiz for more

Close