Shahid Kapoor to unveil Madame Tussauds' wax statue today, won't take his kids: 'Traumatic for them to see two dads'
Shahid Kapoor says he feels 'special' and 'blessed' to be a part of elite group; feels God has been very kind to him.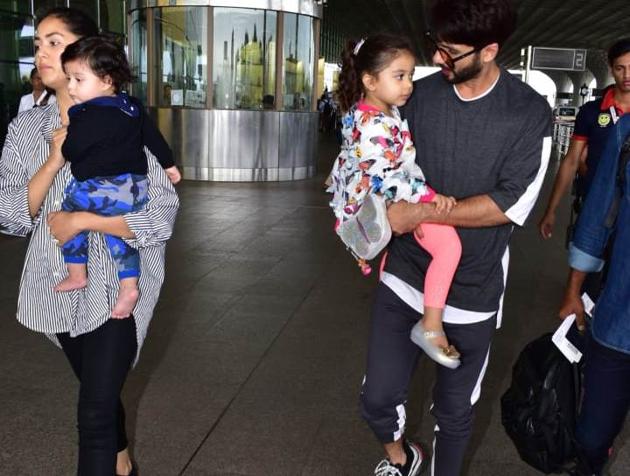 Updated on May 13, 2020 03:35 PM IST
It won't be wrong to say that he has had a rollercoaster ride in an interesting film career. Even though Shahid Kapoor started as a chocolate boy in Ishq Vishk, he has constantly metamorphosed into diverse parts in films such as Jab We Met, Kaminey, Udta Punjab and Padmaavat etc. And the actor says he has just gotten off the hook. "Abhi toh party shuru hui hai," says Shahid, as he readies to unveil his wax statue at Madame Tussauds Singapore today. Excerpts from an interview:
You must be excited to make your debut in the wax statue galaxy…
You do feel special, blessed and privileged that you'll be a part of an elite group of people, who are achievers. Also, I'm curious and excited to see what the statue looks like, and I'm sure that moment will be a bit weird and surreal. When I saw a picture of Mahesh Babu with his statue, I couldn't figure out the real person (laughs). I am happy that they thought I was deserving of a wax statue. I am thrilled to be there and be a part of that experience. I'm sure it will be nice.
Besides your fandom and popularity, what does having a statue stand for you?
For starters, it's going be there for a while, probably for longer than I live (smiles). Honestly, I feel it should represent my body of work. I don't want to be featured in the Madame Tussauds for reasons like, 'he looks good in a suit and his pictures turn out to be good.' Those aren't my priorities in life. It's nice to look good. If they felt that I have done some substantial work, which should be recognised, that's a great compliment. It's very encouraging and I am very thankful.
You've completed 16 years as an actor. Have you become more mature and aware of things?
I've changed a lot. When I look back at my journey, I feel God has been very kind, to have given me the opportunities to learn. I've made many mistakes and learnt from them. God has helped me understand things but in a slow manner. It's very important to have ups and downs. And most important thing is to learn [the difference between] being a boy to a man. I can feel my journey within. Today, I'm a completely different person from what I was, even five years ago.
Your outing in Kabir Singh has got a great response. Excited?
I feel what people find unique and different is the character's tone and attitude, besides the depth and intensity of his love and his angst. When I saw Arjun Reddy, I too felt overwhelmed due to those elements. So, it was essential to retain them but we also wanted to rediscover the part to make it our own and turn it into an original. Arjun Reddy and Kabir Singh may be cousins but they aren't the same people. People should feel they've seen a different man's journey.
+ +
Any streak of nervousness, especially since trade feels it's an important film for you?
That's something I have been hearing for 15 years now (smiles). So, I don't get bothered. Instead, I try and focus on how I can give my best shot to the part. I've been in the industry for 15 years, so I am happy with where I am. Be it praises or flak, I don't let either of it affect me.
Your son, Zain is now eight months old. As a father, your hands must be full with Misha also being around?
I love it. I'm a workaholic. Bur ever since I had kids, I've had long work streaks followed by big breaks. Somehow, God has managed my life for me. So, he has kept me busy for 4-5 months and then given me 2-3 months break, where I also figure out my new films and new looks etc. I feel fortunate that I have had time to bond with my kids. One of the most problematic things for actors is that our working hours are unpredictable and long. But I don't want my kids to not have me around.
+ +
Who, from the family, is most excited about your wax statue?
Everyone including my wife, in-laws, as well as my parents. They all had a big smile on their face when they learnt about it. They were like, 'oh, it's great'. All of them had a genuine reaction of happiness and surprise. As for Misha and Zain, we don't plan to take them for the unveiling of the statue. Otherwise they may think, 'wow, what just happened?' as it could be a traumatic experience for them to see two dads (laughs). So, only Mira will join me.
Also read: Happy Birthday Vicky Kaushal: From Dola Re pose to becoming a mannequin, the actor is the king of Instagram
Talking about work, when you were working on Kabir Singh, did you ever feel any pressure of comparison [with Arjun Reddy]? Also, do you get bothered when people say that it's a very significant film for you at this stage?
Honestly, I was a bit nervous because when you personally love a film so much, you don't want to screw it up (laughs). As for comparisons, as an actor, you want to give people an equally enjoyable experience, and even try to come up with something new and surprising. And my focus was on that. And honestly, I don't really focus on other areas because I can only do my best as an actor. That's in my hands. Baaki sab baatein chalti rahti hai. For me, criticism is as good as appreciation. And I am fine with whatever people are saying.
+ +
How similar or different is your interpretation of the character?
The idea was to not be like somebody else or something else [film]. For Hindi film going audiences, it'll be a completely new experience. Keeping them in mind, there are certain tweaks and alterations besides a few small, nuanced changes because there is a socio-cultural difference [between Arjun Reddy and Kabir Singh]. But the director [Sandeep Reddy Vanga] is the same and the whole idea was to work with the same man, who created the magic in Arjun Reddy. He understands the soul and heart of the film and character. We've worked hard to retain that but still make a fresh film.
Talks suggest that you aim to work less in order to spend time with your family now. True?
It's not as if I am working less but the time management has to be better. I guess everyone who gets married and has kids would want to do that. Earlier, I'd never be comfortable sitting at home. But now, since I am not on the sets all the time, I get a lot of time with my kids, and that's very important. I am happy and would want to continue that. I'd never want to be a situation where I don't get to see my kids. That's something I am very thankful about.
Follow @htshowbiz for more
Close Story