Shatrughan Sinha: The condemnation of mob attacks is a case of too little too late
Veteran actor Shatrughan Sinha is upset with the spate of mob lynchings, which took place in the country recently.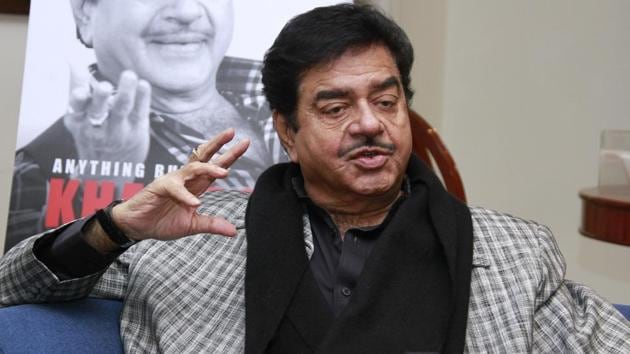 Updated on Jul 06, 2017 09:57 AM IST
Hindustan Times |
, New Delhi
Subhash K Jha
The most outspoken soldier of the ruling regime, actor Shatrughan Sinha, is shattered by the spate of mob lynchings across the country. "I strongly condemn the lack of urgent and immediate police action against mobs who pick on individuals. This is a new trend and it is spreading all across the country. If we don't control it now, we would soon be staring in the face of utter chaos with the mobs deciding what we should eat and what we should wear," says Shatrughan Sinha vehemently.
Without naming the Prime Minister, Shatrughan feels there must be stronger action against mob attacks. "I am afraid the condemnation of mob attacks is a case of too little too late. Much sterner action is needed."
Shatruji says he is a proud Hindu. But the actions of the mob have left him deeply mortified. "We are all Indians first, then Hindus or Muslims. The hapless Muslim boy Junaid, who was lynched on a train on the eve of Eid was also Indian.What crime had he committed? Who decides what is the correct way for an Indian to eat or behave?"
The outspoken Hindu feels this whole rigmarole over cow protection is a farce. "First, protect the cows from hunger and homelessness. Then protect them from beef eaters. Cows are so mercilessly neglected in our country. We have cows left to die on the roads. They eat plastic bags and die. Rather than pretend to protect cows from beef eaters, let the gau rakshaks protect cows from hunger and homelessness."
Never one to mince words, Shatruji wonders why goons and self-appointed moralists will decide our clothes and food. "Why should we be told what to eat and what to wear? Are we not responsible citizens? It is time strict laws were implemented against the mob mentality.Otherwise our democracy is heading towards mobocracy."
He feels we are wasting our time on non-issues. "China is getting more aggressive. There is Pakistan, killing and mutilating our jawaans. There is rape and violence against women and children. And we are concerned with people's food habits. And look at the example our politicians are setting! One of them has been caught on camera urinating in public. Just the other day a young man was lynched when he tried to stop public urination. If public figures spread the wrong message how can we control mob mentality?"
Shatruji is all for swift laws against mob action. "I have always considered our Prime Minister the biggest action hero of our country. It is time for him to take firm and swift action those who take the law into their own hands. The lynching mobs represent neither the BJP nor India. They represent only the hooligan class."
Close Story
Personalise your news feed. Follow trending topics