Sonali Bendre pens an emotional note for her sister, says she was her 'rock' during cancer treatment in the US. See pics
Sonali Bendre's Instagram posts, through the course of her treatment, have been inspirational. In a touching new post, she has thanked her sister Rupa for being with her in the US for the last six months.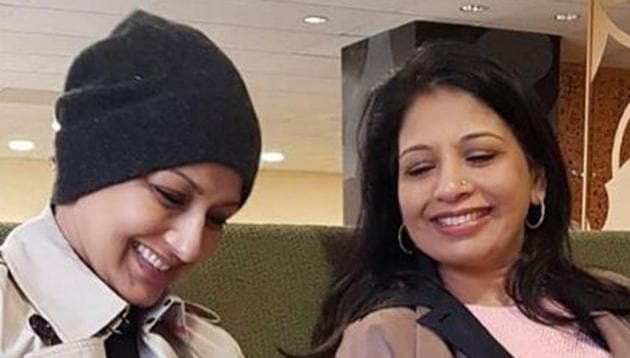 Updated on Dec 07, 2018 08:54 AM IST
Sonali Bendre's Instagram post, through her treatment in New York City, has been an inspiration to many. From laying bare her heart, exposing her weaknesses to diving deep into the recesses of her soul to muster strength to battle her 'high grade cancer', Sonali has set the bar high for all. However, none of it could have been possible with a support system. And one such a person is her sister, Rupa.
Sharing an emotional and sincere post on the occasion of her sister's birthday, Sonali writes how Rupa Tai (that's how an elder sister is addressed in Marathi) has been "my rock, my person". She goes on to describe how Rupa has been there with her throughout—from the time she was diagnosed with the disease, when she decided on the course of her treatment to actually packing her bags to accompany her to NYC.
The actor goes on to add how Rupa has been with her through thick and thin — a dictator, when she had to eat right or take medicines or an empathetic counsellor, switching roles of being a listener to leaving Sonali with her throughts, effortlessly. Sonali elaborates how sisters share a special bond; they are pretty much an extension of each other. She concludes by adding that now they have returned home and are back with their respective families, she will always remain indebted to her 'Rupa Tai'.
It may be recalled that in early July this year, Sonali first revealed to the world that she had been diagnosed with cancer and that she, with the support of her family and friends, had decided to fight it head-on. In many of her subsequent posts, she had shared how painful the treatment had been—there were times when she couldn't even lift a finger! Sonali's courage has been exemplary--never shying away from what cancer treatment can do, the glamorous actor had shared pictures of herself without any hair!
Her posts have never been morose though—even in pain, she took time out to enjoy whatever way she could. We have seen her taking part in Priyanka Chopra's bachelorette party in September this year and stepping out when friends came visiting. In the five pictures with Rupa in NYC, she showed how every dark cloud can have a silver lining.
Read her complete post her.
Follow @htshowbiz for more
Close Story