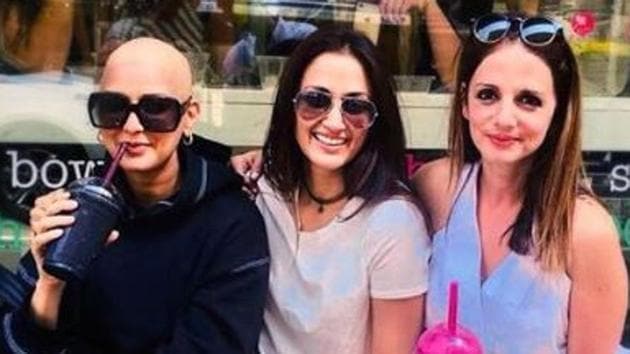 Sonali Bendre, battling cancer, finds true happiness on Friendship Day, shares 'bald is beautiful' pic
Sonali Bendre wrote friends such as Hrithik Roshan, Sussanne Khan and Gayatri Oberoi are her pillars as she fights cancer.
UPDATED ON AUG 05, 2018 02:59 PM IST
Sonali Bendre -- who is currently getting treatment for cancer in New York -- was joined by her friends Sussanne Khan, Gayatri Oberoi and Hrithik Roshan on Friendship Day on Sunday. The actor, who is showing immense grace and strength in the face of her cancer diagnosis, shared a new post with her friends and said they were her "pillars of strength". Sonali also shared a photo which she hashtagged "Bald is beautiful" clicked by Hrithik.
Soon, Bollywood celebs and Sonali's friends commented on her spirit and called her a "warrior princes". If Alia Bhatt sent her love, celebs like Raveena Tandon, Ekta Kapoor and Farah Khan said she looked stunning. Sussanne, who is with Sonali, wrote, "Love you too much my warrior princess. You are the prettiest inside and out."
The 43-year-old actor was diagnosed with high-grade metastatic cancer which she is dealing with positivity and her friends and family by her side. "This is me. And in this moment, I am really happy. People give me strange looks when I say that now, but it's true and I'll tell you why. I am now paying attention to every moment, looking for every opportunity to find joy and #SwitchOnTheSunshine," Sonali wrote in the powerful new post.
+ +
Accepting that the journey has been difficult, she added, "Yes, there are moments of pain and low energy, but I am doing what I like, spending time with people I love, and feeling very loved and happy. I am extremely grateful to my friends, my pillars of strength, who at a moment's notice, arrived to be with me and help me through this. In between their busy schedules they find time to visit, call, message, FaceTime... basically never leaving a moment for me to feel alone. Thank you for showing me what true friendship is. #HappyFriendshipDay, ladies. Blessed to have you all in my life (including the ones not in the picture... You know who you are) @gayatrioberoi @suzkr."
Sonali also proved that her sense of humour is holding her in good stead as she wrote as postscript, "P.S. Nowadays I spend far less time getting ready because I don't have to fuss over my hair! 😜#BaldIsBeautiful #FindThePositive#OneDayAtATime. Picture credit: @hrithikroshan."
In an earlier post, Sonali had said that son Ranveer was her strength and she had taken the decision to reveal her diagnosis to the 12-year-old. A few days later, husband Goldie Behl had also shared a smiling photo of the youngster and told her fans that the actor was doing well.
+ +
Sonali had also shared the photo of her getting close cropped hair, writing, "The human capacity for survival and renewal is awesome."
+ +
Sonali has been positive throughout her journey, sharing her diagnosis in a candid and brave post. We wish her speedy recovery!
Close