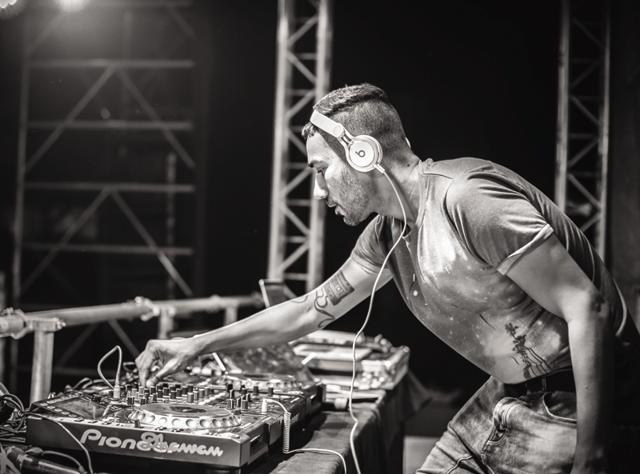 EDM is just 10 per cent of the music I listen to, says DJ Nucleya
How DJ Nucleya moulded South Indian street music for the dance floor.
UPDATED ON APR 22, 2016 05:59 PM IST
Two decades ago, most Indians didn't know much about EDM (Electronic Dance Music). But that didn't stop Ahmedabad-based Udyan Sagar from blending electronica with Indian classical, when he co-founded Bandish Projekt in 1997 with his school mate Mayur Narvekar.
Fast-forward 19 years. Sagar, 36, has quit his band, relaunched himself as DJ Nucleya, released two solo albums (Bass Rani, Koocha Monster), garnered praise from world-renowned DJ Snake (of Lean On fame), all the while staying true to his motto: "to remain different."
"EDM is 10 per cent of all the music I listen to." You'd think that odd coming from someone who plays such music. But then DJ Nucleya has never believed in being typical.
His song Tamil Fever was remade into the catchy, up-tempo song Let's Nacho in Kapoor & Sons. Excerpts from an interview:
You used South Indian street music with your sound in Let's Nacho. How did the street music bug bite you?
In Indian sounds, usually there's bhangra-influenced bass or tabla and flute on most tracks. I wanted to try something different. I realised that street music is essentially dance music and that it's very easy to fuse it with electronic music.
Independent musicians shy away from Bollywood, because they think it's too mainstream. How did you manage to keep your sound intact?
My sound is a cross between mainstream and indie. Maybe that's why I didn't have to try too hard to get into Bollywood. Dharma (Productions) heard my original (Tamil Fever) with playback singer Benny Dayal and asked us to make a version for Kapoor & Sons. It was that simple.
Many of the old-school believe electronica is not real music...
Music is music, it doesn't matter if it's made on a guitar or a computer. It's important to make music you feel good about. And if people think it's not real music, I really can't do much about it.
What kind of music do you listen to?
While I was growing up my father introduced me to Mehdi Hassan, Bade Ghulam Ali Khan saab, Nusrat Fateh Ali Khan. So this is what my four-year-old kid and I listen to most of the time: non-electronic, old film music from the '50s and '60s. I don't listen to much of electronic music at home. Maybe 10 per cent or ever lesser than that.
Your four-year-old son's voice features in the track Aaja from Bass Rani. How did you think of that?
I prefer to spend time with my family. I record a lot of sounds when I'm at home – even if it's my son blabbering. I discuss my music ideas with my wife Smriti and often ask her to sing it for me. Akkad Bakkad (from Bass Rani), is actually my wife's voice, and we recorded it in just 10 minutes. The idea is to always try and do interesting work. That's what pushes me to experiment.
Weren't you apprehensive that your music might not work back when EDM wasn't popular?
It did NOT work! For many years. The tension is still there. But my music is not genre-driven. Sometimes I use folk music, sometimes classical, sometimes street. People no longer come for my shows only for EDM. They know that DJ Nucleya is going to play his own brand of music.
Follow @JainAtisha on Twitter
From HT Brunch, April 3, 2016
Follow us on twitter.com/HTBrunch
Connect with us on facebook.com/hindustantimesbrunch
Close