For both Shankar and Siddharth Mahadevan, music is a way of life
Updated on Oct 17, 2015 09:08 PM IST
For both Shankar and Siddharth Mahadevan, music is a way of life. But apart from Bollywood, the Breathless singer's son has also been doing music in Marathi films as well.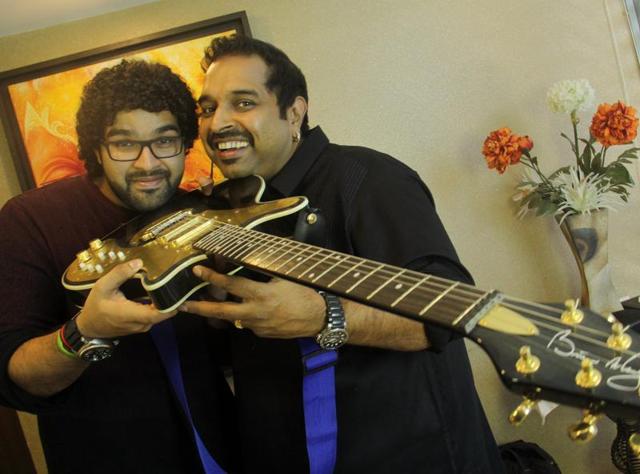 Any singer in India would be pleased by honours like these: a best male playback singer award and the RD Burman Award for new music talent for the song Zinda from Bhaag Milkha Bhaag (2013).
And it isn't that Siddharth Mahadevan, the recipient of these awards, doesn't appreciate them. But he does wonder why, when the media reports his achievements, one statement is always used: 'Like father, like son'.
"Of course it makes me happy to hear that, but as far as my musical journey is concerned, I still have a long way to go," says Siddharth. "I need to create my own identity rather than be told that I sing just like my father."
Having said that, the 22-year-old singer and composer is not exactly inexperienced. He made his playback singing debut 10 years ago (when he was 12) in 2005 with the film Bunty Aur Babli, singing the title track along with other singers. And he sings as naturally as he breathes – not surprising since he is the son of Shankar Mahadevan, who gave up engineering to sing.
"I still remember mehfils happening through the night at our house – great musicians coming home and spending time with us," says Siddharth. "At that time, I didn't know whether I would become a singer, drummer or a composer, but I absolutely wanted to convert my passion for music into my profession."
On the right note
Mumbai-born Siddharth trained in Hindustani and Carnatic music, and also did well at school. And even as his parents, like most parents, insisted that he pay attention to his studies, they were also cool about him working in the music industry at the same time.
"In fact, at the time of my board exams, I was composing music for a Marathi film and my father knew about it," says Siddharth. He created his first composition in 2010 with his cousin Soumil Shringarpure for Neeta Lulla's show at the Lakme Fashion Week. At that time, Siddharth was a student of class 10.
Since then, Siddharth and Soumil have been composing for Marathi films. Now, Siddharth is also composing for Hindi films, with The Perfect Girl, which released last year, being his latest score. Comparing the creative process of singing with composing, Siddharth says they are quite distinct. "While singing is challenging, composing is like an ocean with no limit to creativity."
Perhaps this penchant for music grew because Siddharth's parents never explicitly pushed him towards it. They just surrounded him with music; exposed him to it. And it worked. "If we had forced him, he would have rebelled. So we just consciously gave him a free environment to make his own choices," says Shankar Mahadevan. "Siddharth's temperament will take him places. You may be an ace musician, but if you have a bad temperament, no one will tolerate you for long."
The father is naturally proud of his son. "He sings not just in Hindi but in Tamil, Telugu, Marathi, Kannada and Malayalam, purely due to his own talent and not because he is my son," says the veteran music director. Although Shankar and Siddharth learn from each other – Indian classical music from father to son, and the latest in music and music technology from son to father – Shankar ensures his growing fame does not go to Siddharth's head.
"After the recording, Siddharth was proud of his effort in Zinda, but I advised him to let the audience decide the fate of the song," says Shankar. But a few months later, when the movie was about to be released, both Shankar and his wife Sangeeta were thrilled when director Rakeysh Omprakash Mehra called them to say how much everyone loved Siddharth's voice.
Naturally, Siddharth is inspired by his father in every possible way. "He is a musician of the highest calibre, and his song Breathless is the most amazing song ever sung," says Siddharth. (In fact – and this may seem hard to believe – the then three-year-old Siddharth recorded a mouth percussion segment for the track.)
"He advised me to learn Western classical music as well, and I'm truly indebted to him for that because it helps me when I compose. And when I am singing for him, I do exactly as he says and give my 100 per cent to the song."
Partners in rhyme
Father, guru and best friend – that's how Siddharth perceives Shankar. The two of them watch movies, swim at their farm house and even cook together. "Dad cooks every single day as that really helps him destress. We also try out new recipes and enjoy cooking steamed fish, Thai curry and Indian food," says Siddharth.
Like most young Indians, he likes playing football and cricket, besides chilling with friends and checking out the latest in gadgets. His mother Sangeeta, although she's never sung professionally, is a singer too. "My mother is our best critic. She always gives us a third person's perspective without bias," says Siddharth.
Siddharth has his favourites among his father's songs – Breathless, of course, and Der Lagi Hai Lekin from Zindagi Na Milegi Dobara. And now the son is very excited about Shankar's acting debut in the Marathi film Katyar Kaljat Ghusali, where he essays the role of a musician.
Siddharth is also a big fan of Michael Jackson for his singing as well as his performing abilities. Among current singers, he finds Arijit Singh phenomenal and the most versatile.
For Shankar, anything his son sings is his favourite song. But, yes, one particular number in Marathi, Jhale Gele Visarave, sung as well as composed by Siddharth for the film Swapna Tujhe Ni Majhe, is really close to his heart. "Everyone thinks that I have sung it, but it is actually in Siddharth's voice," says Shankar.
"The sky is the limit for Siddharth," says Shankar. "I want him to be known as a good musician who inspired people. And I want people to know that my identity is not his identity."
**
It's in the genes
Udit and Aditya Narayan: Father Udit Narayan has sung for Aamir Khan, Shah Rukh Khan and Salman Khan. Son Aditya gave hits such as Chota baccha jaan ke to the more recent Ishqyaun dhishqyaun from Ram Leela.
Anu and Anmol Malik: While Anu mainly composes music, he is also known for his songs like Ek garam chai ki and Oonchi hai building. His daughter Anmol began her singing career at the age of seven with the movie Diljale. Her song Talli from Ugly Aur Pagli was a big hit.
Sonu and Nevaan Nigam: Celebrated playback singer Sonu has wowed the masses with hit songs from films such as Pardes and Kal Ho Na Ho among many others. His son Nevaan stole our hearts with his own version of the popular song Kolaveri Di.
Follow @VeenuSingh12 on Twitter
From HT Brunch, October 18
Follow us on twitter.com/HTBrunch
Connect with us on facebook.com/hindustantimesbrunch