"The talent hunt shows are becoming less about the talent and more about the backstory of the participants," says Sonu Nigam
The dapper singer, who started off as a child actor, also reveals why he chose singing over acting while picking a career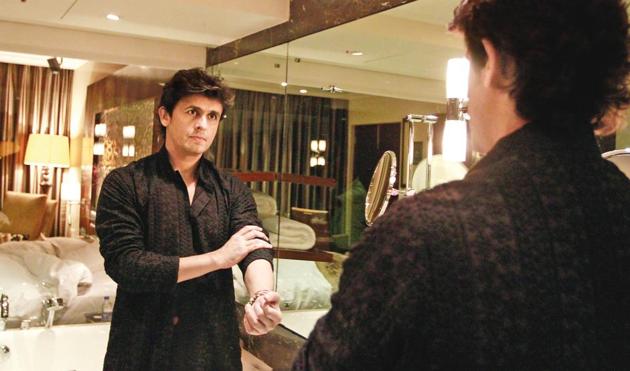 Updated on Feb 03, 2018 11:15 PM IST
Despite being a child actor, you did not consider taking it up as a full-time career. Why is that so?
I acted in a lot of films between 1980 and 1984. I played the younger versions of Vinod Mehra (Pyare Dushman), Shatrughan Sinha (Taqdeer), Sunny Deol (Betaab). But, the shoot conditions were horrible for kids back then. I'd be roaming in the sun for most part of the day as there would be no proper place to rest between shots. The experiences were so traumatic that I ended up hating the smell of make-up, camera, everything. In fact, when I became a singer, I would dread even shooting for my music videos as the memories of my acting days would come back to haunt me.
What's your first memory of singing on stage?
I sang on stage for the first time in 1977. It was at my dad's concert in Jind and I was four years old. He was singing Kya Hua Tera Vaada. I wanted to join him and threw quite a tantrum. So much so, that my mother had to allow me to go on stage. Once there, I totally hijacked the song from him!
One animated character you would love to dub for...?
I think Shrek. Or, may be Chhota Bheem. My son is addicted to him. So, if the Chhota Bheem guys are listening, please consider my name, I am free!
What's the one so-bad-it's-good or trashy Bollywood movie you have watched multiple times?
Jaani Dushman: Ek Anokhi Kahani (2002) of course. I had to watch it multiple times because I was in it! People often ask me what I was thinking when I signed up for it. I didn't have much experience in acting, but it had big stars like Akshay Kumar, Sunny Deol and Suniel Shetty. I thought if Akshay is doing a movie it must be good!
The most bizarre thing you have done in real life is...?
I had collaborated for a song called Underwater with an Indo-American DJ, Kshmr. That inspired me so much that when I was in Australia recently, I went scuba diving. This was a bizarre step considering that I don't know how to swim at all!
The worst thing about reality shows is...?
That these talent hunt shows are becoming less about the talent and more about the backstory of the participants, which is often created to generate TRPs.
What's the one thing that you are most scared of?
Cockroaches. I am a brave person otherwise, but I am damn scared of cockroaches, especially the flying kinds.
What is your typical Sunday with family like...?
Last Sunday, I spent the entire day playing cricket with my son, Nevaan. He is into cricket these days and has also joined a coaching class for it. But he was mighty disappointed when I beat him. I just smashed it! He had a stronger team and I batted alone for three hours!
Your most favourite celebrities include...?
Apart from Amitabh Bachchan, I used to just love Aamir Khan. In fact, my room used to be full of his posters only.
Follow @ananya1281 on Twitter
From HT Brunch, February 4, 2018
Follow us on twitter.com/HTBrunch
Connect with us on facebook.com/hindustantimesbrunch
Close Story
Personalise your news feed. Follow trending topics