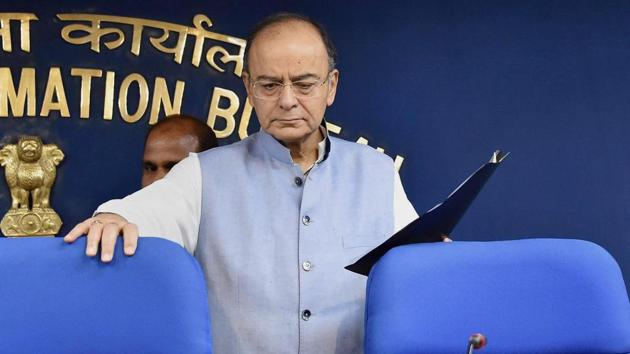 H-1B visa: Arun Jaitley discusses India's concerns with US commerce secretary
Arun Jaitley takes up H-1B visa issue with US commerce secretary, discusses the case of Indian IT companies and professionals.
UPDATED ON APR 21, 2017 09:21 PM IST
Conveying India's views directly to the Trump administration, Finance Minister Arun Jaitley told the US Thursday it must consider the contribution of Indian professionals to its economy as it conducts a review of a temporary visa programme for high-skilled foreign workers.
Jaitley "raised" the issue at his meeting with Commerce Secretary Wilbur Ross and "outlined the significant contributions the skilled Indian professionals have made to the US economy," the Indian embassy in DC said in a statement.
And, the statement added, he "expressed the hope that the US administration will take this aspect into consideration while taking any decision".
India has been alarmed by President Donald Trump's "Buy American, Hire American" executive order issued earlier this week directing federal agencies to review the H-1B temporary visa programme to end "fraud and abuse" and ensure only the "most-skilled or highest-paid" foreigners qualified, with the overarching goal of protecting American jobs.
Indian IT companies such as Tata Consultancy Services, Infosys and Wipro are among the heavy users of H-1Bs, using them to bring workers from India for their operations in the United States, mostly involved in outsourcing business.
A large number of Indians also get get hired by American firms, specially in the IT sector, such as Facebook, Microsoft and Google, and they are the highest recipients of H-1B as a group defined by country of origin — around 70% in 2015.
Critics of the programme in the US have said this visa programme was being used by companies to bring foreigners on lower wages to replace local workers, and President Trump and some of his key advisers agree.
"Right now, widespread abuse in our immigration system is allowing American workers of all backgrounds to be replaced by workers brought in from other countries to fill the same job for sometimes less pay," Trump had said at the signing of the order.
"This will stop. American workers have long called for reforms to end these visa abuses. And today, their calls are being answered for the first time. That includes taking the first steps to set in motion a long-overdue reform of H1B visas."
India has pushed back since. "This is not an immigration issue as we have said earlier, it is basically a trade and services issue," Gopal Baglay, spokesperson for the ministry of external affairs, has said, adding India will keeping a "close watch on the issue".
The United States grants 85,000 H-1B visas under a congressionally mandated annual cap — 65,000 to foreigners hired outside the US, and 20,000 to foreigners enrolled in advanced degree courses in American colleges.
Close