Demonetisation: Banks, ATMs in need of cash after RBI raises withdrawal limits
Jan 19, 2017 11:53 AM IST
Bank and cash logistics companies are under pressure due to a shortage in cash supply after the Reserve Bank of India (RBI) raised the daily withdrawal limit at ATMs from Rs 4,500 to Rs 10,000 per day on Monday
Bank and cash logistics companies are under pressure due to a shortage in cash supply after the Reserve Bank of India (RBI) raised the daily withdrawal limit at ATMs from Rs 4,500 to Rs 10,000 per day on Monday.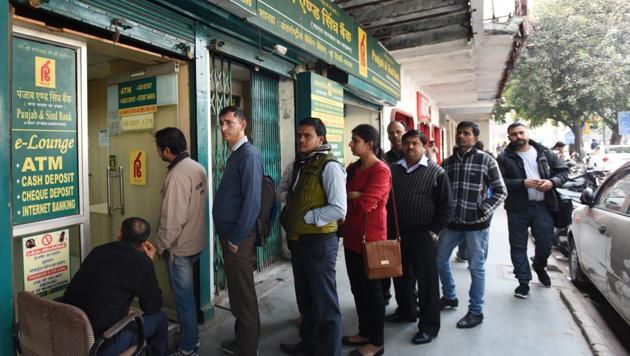 The RBI, however, left the weekly ceiling of Rs 24,000 from the automated teller machines unchanged. The central bank also increased the withdrawal limit for current accounts to Rs 100,000 per week from Rs 50,000 earlier.
Sources said many ATM machines went dry within a few hours after the RBI announcement. They added that the ATMs located at busy areas in the cities are being prioritised for loading with cash since supply was still in shortage. But those in smaller towns are not being filled with cash adequately.
"We are yet to get a grip on the situation. The increase in withdrawal limits is more than double, there is a possibility that a few ATMs located at not-so-busy areas do not have cash to dispense," a senior bank official, who did not wish to be named, told Hindustan Times.
Read | RBI increases withdrawal limit: Here's a list of the withdrawal and deposit rules
Most banks and cash logistics companies have decided to segregate ATMs based on their usage and location for loading of cash. Those near hospitals, shops or offices will be accorded priority for refilling of cash.
These machines are being provided with about Rs 9,000 crore per day against Rs 2,000-3,000 crore available to them in the early days of the demonetisation exercise. Before November 8, about Rs 13-14,000 crore was given to the ATMs for daily loading.
It may take another month for things to normalise, sources said.
Cash logistics companies and banks said the supply of Rs 500 currency notes has improved though it may still take some time to get to the normal level. A State Bank of India (SBI) report said 75% of the total value of currency notes would be back only by January end.
Read | RBI increases withdrawal limit but demonetisation pangs still not over