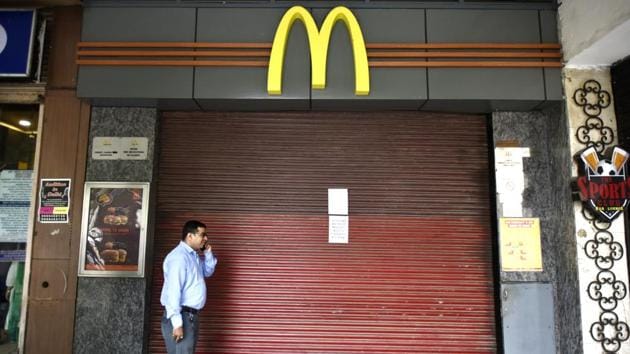 McDonald's terminates franchise agreement for 169 outlets in north, east India
McDonald's India terminated its franchise agreement with CPRL over breach of terms.
LiveMint, New Delhi | By Harveen Ahluwalia
UPDATED ON AUG 22, 2017 07:15 AM IST
McDonald's India Pvt. Ltd (MIPL), the local unit of the American fast food chain, on Monday terminated its franchise agreement with Connaught Plaza Restaurants Pvt. Ltd (CPRL), which runs McDonald's outlets in north and east India, and is now looking for a new partner.
CPRL is a joint venture between MIPL and Vikram Bakshi, who is managing director of CPRL. McDonald's cited "default in the payment of royalties by CPRL" as the primary reason for termination.
As a result, CPRL will have to "cease using the McDonald's system (which includes proprietary rights in McDonald's names, trademarks, designs, branding, operational and marketing practice and policies, and food recipes and specifications) and its associated intellectual property in relation to these restaurants within 15 days of the termination notice".
"The termination is a result of a breach, a violation of certain essential obligations that were a part of the agreement typically the default of payment of royalties to MIPL for two years. CPRL was notified of the breaches and was provided opportunity to remedy those; it had failed to do so," said Ron Christianson, global head of corporate relations, foundational markets, at McDonald's Corp., adding that the company is looking for a new developmental licensee partner.
"It is a lengthy process but we are committed to the market. We want to rebuild a stronger McDonald's," Christianson said.
The company is currently working on the terms to mitigate the impact of the shutdown on all stakeholders, including thousands of employees across 169 restaurants. McDonald's operations in west and south India have not been affected as the master franchisee rights of the burger chain are owned by another firm, Westlife Development Ltd, through its unit Hardcastle Restaurants Pvt. Ltd.
Amit Jatia, vice-chairman of Westlife, declined to comment on the possibility of it opting for McDonald's franchise for north and east India. Christianson of McDonald's said it was too early to comment on potential partnerships.
The move comes almost two months after CPRL shut 43 of the 55 McDonald's restaurants in Delhi following its failure to renew their licences, amid a legal battle between Bakshi and McDonald's.
In 2013, McDonald's voted against the re-election of Bakshi as managing director of CPRL, following which Bakshi challenged his removal at the Company Law Board (now the National Company Law Tribunal, or NCLT), accusing McDonald's of mismanagement and oppression.
Later in 2013, McDonald's revoked the joint venture agreement and invoked arbitration. McDonald's has been pursuing arbitration against Bakshi in the London Court of International Arbitration. However, the NCLT reinstated Bakshi as managing director of CPRL earlier in June.
"This is a completely contemptuous, mala fide and yet another oppressive act indulged in by the McDonald's Corporation to sabotage the order of the Hon'ble NCLT (which states that McDonald's Corporation is refrained from interfering with the smooth functioning of Connaught Plaza and all its 169 restaurants open in the assigned territory of north/east India)," Bakshi said in a text message.
"CPRL is considering the appropriate legal remedies that are available under law. How can they (MIPL) do a hit wicket," Bakshi added, without confirming if the company paid the due royalties.
"The entire legal dispute will turn on the fact whether or not the company paid royalties. If CPRL did not pay the due amount, there is a definite cause for termination on the part of McDonald's," said Shamnad Basheer, former chair professor of intellectual property law at West Bengal National University of Juridical Sciences.
(Sounak Mitra contributed to this story)
Published in arrangement with Livemint
Close