Sunil Mittal declares war on Paytm with Airtel Payments Bank
Published on Jan 16, 2017 05:20 PM IST
Sunil Mittal is not worried about competition. It will have bet on "vast reach and a vast distribution" and will compete head-on as it has done in the telecom business for over two decades.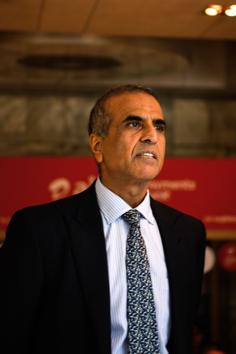 Sunil Mittal exuded confidence addressing a press conference in Delhi on Thursday.
He launched Airtel Payments Bank. The last time Mittal, chairman of Bharti Enterprises, launched a product was almost half a decade ago in April 2012 – Airtel's fourth-generation (4G) internet services.
Mittal looked happy, he had India's finance minister Arun Jaitley, alongside to launch the stripped down bank, through which he hopes to change the banking system of the country.
"It's an historic occasion for Airtel," Mittal said.
After all in his own words, he had "pitched battles with the banking system and the Reserve Bank of India (RBI), to allow telecom companies to become banks."
In 2015, the RBI gave licences to 11 companies, including financial institutions, telecom companies and startups such as Alibaba-funded Paytm.
Through payments banks the government hopes to reach unbanked people in the remotest parts of India, where traditional banks haven't reached. It will allow deposits of up to Rs 1 lakh, and account holders will have access to small loans and investment schemes.
That's the new battleground for Vijay Shekhar Sharma, CEO and founder of Paytm and Mittal – both want a chunk of the same audience, and both want to be bankers.
Mittal is not worried. "We have a vast reach and a vast distribution… We will compete head-on as we have done in the telecom for 24 years," he said.
Rather, he is bullish.
"In Kenya, 90% of the money moves on mobile phones," Mittal adds. Airtel's African business alone witnesses $20 billion of transactions.
Jaitley, too, agreed that telecom companies are better positioned, than banks, to enable financial inclusion. "There will be a lot of competition between traditional banks and the new ones… Telecom companies have the infrastructure," the finance minister said.
Mittal has already committed Rs 3,000 crore of investment into the banking business. It will also use its network of 2,50,000 Airtel retail stores to deposit money. Throw in Mittal's merchant acquisition strategy – it already has on-boarded a million of them (as many as Paytm has), but plans to ramp that up to five million merchants.
Just like Paytm, Airtel opens account without any documentation, based on Adhaar verification. In its first phase it will offer 7.25% interest compared, while conventional interest ranges from 3% to 6%.
Patm, too, is expected to offer higher interest rates, compare to conventional banks. "We will disrupt the Indian banking system," Paytm's Sharma had told HT in an interview earlier.
Mittal, however, is betting on the millennial generation, who have never heard the dial tone, or seen the landline – many of them first used the internet from the mobile phone. "The child born today will never go to the bank branch," Mittal said.
While Airtel is already fighting a battle to prove its supremacy in the telecom space, fighting Reliance Jio, it has engulfed in another turf war with Paytm.