India Inc strikes 480 M&A deals for $27.4 bn in 2013
Hit by sluggish economic trends, M&A activities of Indian companies slowed down in 2013 to a total of nearly than 500 deals worth close to $30 billion, but the momentum is set to pick up in the new year.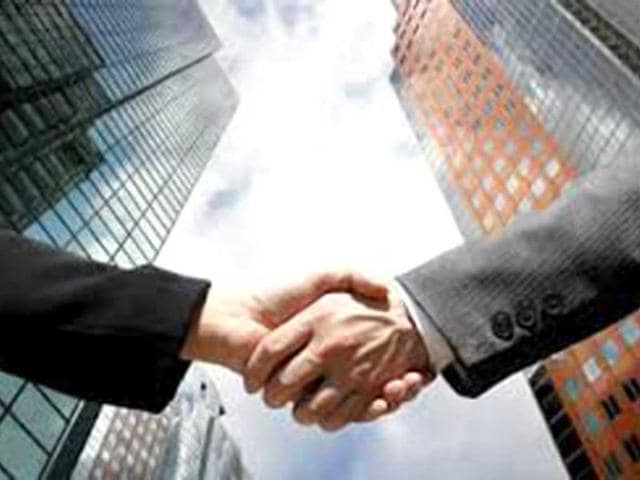 Updated on Dec 29, 2013 10:46 AM IST
Hit by sluggish economic trends, merger and acquisition activities of Indian companies slowed down in 2013 to a total of nearly than 500 deals worth close to $30 billion, but the momentum is set to pick up in the new year especially after the general elections.


In comparison, Indian companies were involved in 598 M&A deals worth $35.4 billion in 2012 and 644 transactions worth $44.6 billion a year ago in 2011, shows an analysis of data compiled by various deal-tracking firms.
While deal volumes have slipped for two consecutive years now, experts believe there is a lot of pent up demand for M&A transactions and the deal momentum is set to pick up in 2014.
Muted economic growth projections and uncertainty over policies held back M&A transactions, and deals are now taking longer to close because of macroeconomic concerns.
According to leading assurance, tax and business consultancy firm Grant Thornton, there have been a total of 480 deals amounting to $27.4 billion during 2013 involving Indian companies, as on December 13, 2013.
A few more deals have been announced since then.
Global deal-tracking firm Mergermarket's India bureau chief Mithun Varkey said deals will be mostly driven by local consumption story, especially in sectors like consumer durables and pharmaceuticals, during 2014.
"A revival in core sectors such as in power, road and infrastructure sectors still seem unlikely as due to lack of investor confidence," he said.
Moreover, the upcoming general elections are also holding many deals back, as many investors and dealmakers prefer to wait and watch.
"We expect subdued activity in the first quarter of 2014 and then based on the election results and market sentiment we believe there will be a big uptick in M&A thereafter," said Harish HV, partner, India leadership team of Grant Thornton.
According to Vikram Utamsingh, managing director, transaction advisory services, Alvarez & Marsal India, there are several insights to the M&A deal tally of this year.
Firstly, both global buyers and investors now believe that it is an opportune time to do deals in India as deals have become cheaper in dollar terms due to the sharp devaluation of the rupee against the US dollar.
Secondly, global investors believe that the Indian economy is at the bottom of its economic cycle and with government elections in the new year coupled with efforts by the present government to increase growth, India should start growing at a higher rate from 2014.
Thirdly, valuations in some sectors like industry and auto have reached more reasonable levels for deals to get done.
"We could see several large transactions in the power and road industry where the large infrastructure conglomerates in India look to find ways to generate cash to reduce their incredibly high debt burdens. These assets, if already operational or near operational, will see interest from global players," Utamsingh said.
PwC India, executive director and leader (private equity) Sanjeev Krishan believes that "overseas investors continued to be cagey (in 2013) about India, owing to the tax issues which surfaced in 2012 and lack of any path-breaking policy moves".
The recovery in the US markets and the upturn in the European economies also meant that overseas investors focused on their home territories more than emerging markets including India, Krishan said.
The year 2013 has witnessed five deals valued at over a billion dollars each, and there were 36 deals valued at over a 100 million dollars each.
Topping the list, Unilever's stake hike in Hindustan Unilever was worth $3.1 billion, followed by ONGC's Rovuma oil block acquisitions for over $2.5 billion each.
According to data from mergermarket, domestic M&A deal value fell by almost 67% year-on-year in 2013.
In 2012, domestic deal value was at about $20.8 billion from 167 deals, but in 2013 it stood at about $7 billion from 140 deals. Inbound deals fell to a total of 148 in 2013 from 172 in 2012.
Close Story
Personalise your news feed. Follow trending topics