Haryana Assembly Election 2019: Stage set for showdown between Bishnoi and TikTok sensation Sonali in Adampur
TikTok star Sonali Phogat is making her political debut as a BJP candidate from Adampur assembly constituency opposite Kuldip Bishnoi of Congress in the October 21 assembly polls.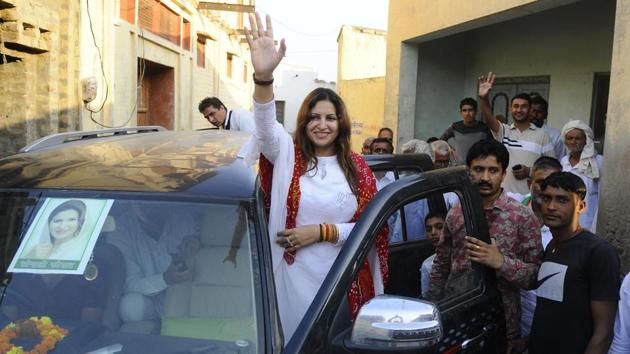 Updated on Oct 18, 2019 06:33 AM IST
For her seemingly sizzling dance videos on romantic songs, Bharatiya Janata Party (BJP) nominee Sonali Phogat is warmly called a social media sensation in this citadel of the clan of former two-time chief minister Bhajan Lal. Aware of her internet-driven popularity that gave her the much-needed toe-hold to launch her political innings in this Jat-dominated seat, poll debutante Sonali has now consciously crafted a "woman next door" image.
That she is deeply-rooted in the culture of patriarchal rural Haryana, the Class 10 passout opts to walk through the dusty and dung-scattered village paths during her dawn to midnight door-to-door "selfie here and hug there" campaign. Not just this, Sonali, 40, sticks to pure local Bagdi dialect while connecting with voters and greeting elders by touching their feet.
And her Congress rival Kuldeep Bishnoi, 51, the three-term MLA, whose family has the rare distinction of representing this seat in Vidhan Sabha continuously for past 52 years, prefers Hindi to Bagdi during corner meetings in villages where he visits in his high-end white colour Audi Q-5.
What is extraordinary about the contest here is that even as pitted against a debutant Jat woman, who draws strength from her following on social media, the stakes have never been as high as they are this time for the Congress heavyweight Bishnoi.
Apart from BJP and Congress candidates, there are 13 other contestants, including eigh independents, in the fray who are expected to fare in consonance with their political standing. The stage is, therefore, set for showdown between Bishnoi and Phogat.
SENSING A CHANCE
Much before the BJP think-tank surprised voters by fielding Sonali, the saffron party had sensed an opportunity at the hustings when the Congress nominee's son Bhavya Bishnoi trailed by near 23,000 votes from this family fortress in the Lok Sabha elections.
"For the first time, we defeated the family of Bhajan Lal," Bishnoi, referring to Lok Sabha election outcome says, urging Dhandoor village voters in a late evening meeting to recognise who is their own. "By weakening me you will become politically weak too."
Bishnoi's counter poll narrative revolves around Sonali's social media following about which he cautions voters in every meeting. "How can the BJP candidate fulfil your aspirations who can't count names of five villages... Be careful... don't get charmed. Otherwise Adampur will have to suffer," he tells voters of Jhiri.
And about 15km away at Bagla village, BJP nominee says: "After winning every election, Bishnoi flies abroad to live there." As Sonali takes digs at Bishnoi, Hawa Singh, a Jat farmer, interjects: "Mokka hai, dhaa leyo Bishnoi ko (This is a good chance to defeat Bishnoi.)"
Village after village "dhaa leyo Bishnoi ko" is the pet catch-phrase among the Jats.
"Jats want to defeat Bishnoi. There are around 45,000 Jat voters and nearly 10,000 are Punjabis who are backing the BJP because they don't like Bishnoi," Rajiv Saharan of Bagla village says even as Manglu Ram of Ladwi disagrees.
BJP nominee reminds voters of Kabrel that after defeat in the Lok Sabha elections, the Congress nominee has been staying here. "I was born at Bal Samand village here and went to a sarkari school. I was married in Hisar. I am from a family of farmers and live here. I know the jamini hakikat (ground realities)," she tells voters of Kabrel.
CONNECTING WITH VOTERS
During a late evening meeting at Thaska village, Bishnoi with folded hands before the voters admits to his faults of "disconnect" with the constituents and "overconfidence" as one of the reasons behind defeat in the Lok Sabha polls.
In every meeting, Bishnoi humbly asks villagers to forgive him, saying: "Our relations are not political. Our relations with all of you are five decades old. I will always be the first to face sticks of the police for your sake. My family has always taken care of you. Now, you have to vote carefully."
Sonali reaches Dhandoor shortly after Bishnoi leaves and says: "Bishnoi adopted Jawahar Nagar village. He spent ₹82 lakh and ₹9 crore grant was lapsed. This is how he has been taking care of Adampur."
From village after village, not just teenagers or women but also wrinkled-faced men eagerly look forward to the visit of BJP's Sonali. They bless her liberally and in every house she gets ₹100 as "dakshina".
"She is a bhanji (niece) of Baal Samand village having 6,000 voters. Her extended family has relations spread across the segment. She is a daughter, daughter-in-law...This has become a force multiplier for her," explains Capt Krishan Bagla.
And about Bishnoi, Capt Bagla says: "We didn't see him for five years. For 20 years, he didn't show his face."
It is this hostile mood of the Jat voters and Sonali's appeal that has potential to make Bishnoi's task a bit difficult.
Close Story