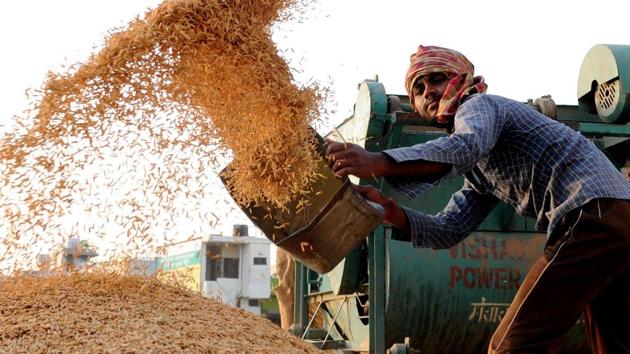 Paddy procurement in Patiala begins at a snail's pace, arhtiyas continue stir
PUBLISHED ON OCT 03, 2019 10:41 PM IST
Paddy procurement, which began in district from Tuesday, witnessed a slow start as only 8,500 tonne paddy has arrived at the grain markets and procurement centres across Patiala.
Due to minimal arrival, of the 101 purchasing centres, the government purchase of paddy has started at only three centres — Rajpura, Nabha and Samana — while the other purchasing centres bore a deserted look.
However, the decision of commission agents to boycott procurement process over the direct payment system row will cause inconvenience to the farmers and officials of procurement agencies in the coming days, say officials.
District food and supplies controller Harsharnjit Singh said that the procurement agencies are not facing any inconvenience as of now.
"We are holding meetings with the procurement agencies so that farmers do not face any difficulty once the procurement season gains pace," he said.
He added that they are expecting major arrival of crop at grain markets in the second week of this month.
If agriculture experts are to be believed, the procurement season will gain momentum after October 10 as some of the varieties including PR 121, 122 and 140 will be fit for harvesting.
Chief agriculture officer (CAO) Arvinder Singh said that farmers should not harvest their crop in a haphazard manner to avoid high moisture content in grains.
He added that in most areas, the crop is still in the last stage of maturing.
"Farmers should remain patient and go in for harvest only when the grain is completely ripe. It will be difficult for the farmers to control moisture content if they harvest the crop in its unripe state," he said.
The district administration is expecting around 13 lakh tonne of paddy production this year against 12 lakh tone last year.
Meanwhile, deputy commissioner Kumar Amit said that special instructions were passed to sub-divisional magistrates (SDMs) across district to conduct meetings with mandi representatives and procurement agencies every morning and evening to oversee the procurement process.
"The officials have been instructed to ensure direct payment to farmers, besides directing them to bring moisture-free yield to grain markets to sell it at the earliest," he said.
More than 10,000 tonne of basmati varieties have arrived at grain markets. With government agencies not procuring basmati varieties, private traders have already started purchasing the crop.
Meanwhile, the commission agents (arhtiyas) continued to boycott the procurement process in protest against the direct payment system.
Harjit Singh, vice-president of the Punjab Commission Agents' Association, said the Food Corporation of India (FCI) is forcing the agents to upload bank accounts and aadhaar card numbers of farmers on public financial management system (PFMS) portal so that the farmers can be paid directly for their yield.
"The data of the PMFS is being used for public distribution scheme, but the FCI has implemented it on the crop sale too. Moreover, the government has also directed to withhold payments of commission agents, if they fail to link bank accounts with the portal," he said.
Meanwhile, Jagmohan Singh, general secretary of Bhartiya Kisan Union (Dakaunda) said farmers are demanding direct payment into their bank accounts as it would help to end loot of farmers on the hands of commission agents.
"In wake of money lending system, the commission agents continue to harass and blackmail farmers," he said.
Close